Ever feel like you could use a few extra inches? We got you, short kings—there are a number of different types of men's shoes that make you look taller. From subtle height increases to dramatic elevator shoes, we'll break down the best shoes to make you look taller so you can wear your wardrobe better and present yourself with more confidence.
Types Of Shoes That Make You Look Taller
Sneakers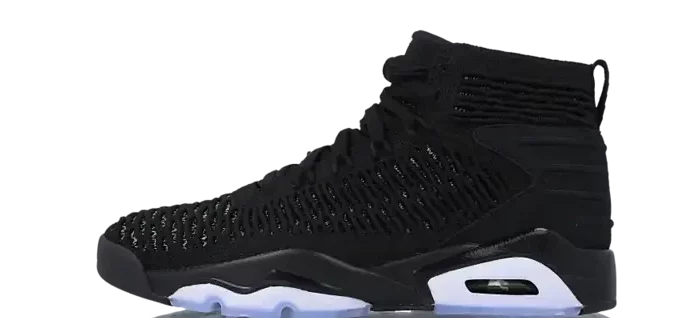 One of the easiest ways to add a few extra inches to your height is by wearing sneakers that have elevated soles, which will provide an extra inch or two of height. Sneakers typically have rubber or foam soles that are thicker in the heel area, which gives you an instant boost while still being discreet.
And, because they're designed to be comfortable and practical, they can be easily incorporated into any man's daily wardrobe. Plus, there are a ton of different style options available, so you can find a pair that fits your personal taste.
Dress Shoes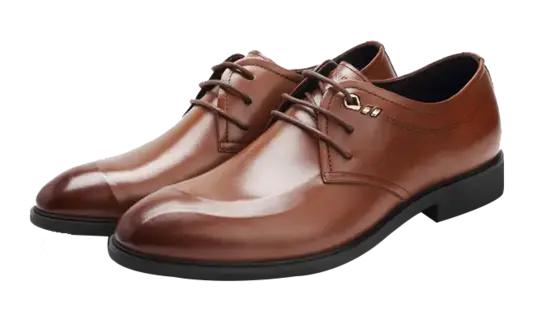 If you're looking for something a little more formal than sneakers, there are also a number of different types of men's dress shoes that can make you look taller. For example, Oxfords and brogues typically have thick soles that can add an inch or two of height.
Additionally, most dress shoes have a small heel that can add on half an inch to two inches to your height. So, if you're looking for a shoe that will make you look taller and professional at the same time, dress shoes are a great, non-obvious option.
Boots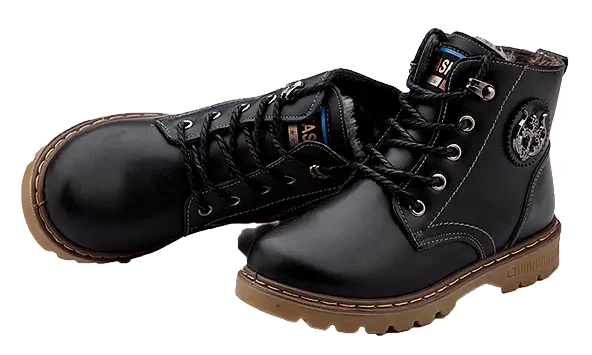 Boots are a bold and fashionable way to make men look taller. Most men's boots have a thick, platformed sole with an additional one inch elevated heel that can add an extra inch or two to your height. Boots are versatile and match with almost any outfit in your wardrobe and can give you more of a stylish, rugged appearance.
Just be sure to have spring and summer shoes that also make you look the same height as you don't want to be the guy that wears boots in the hottest months of summer.
Elevator/Lift Shoes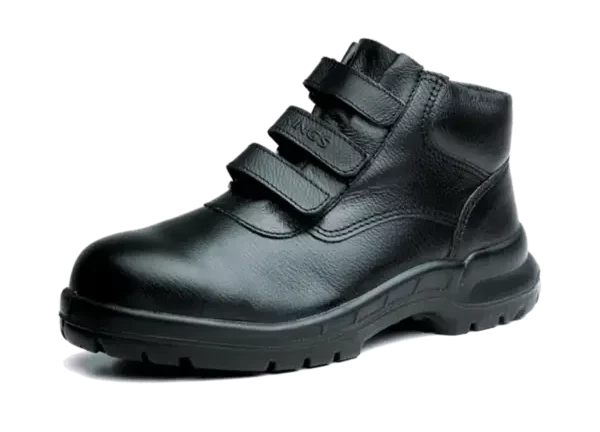 If you're looking for a more dramatic result, you can try elevator shoes (also known as lift shoes) which are specifically designed to make you look considerably taller. Elevator shoes come in many types of styles from sneakers, to dress shoes, to boots.
They're able to discreetly make men look taller with built-in heightening insoles and an additional heel on some styles. Some elevator shoes can offer up to an additional four to five inches to your natural height, all while looking like a regular shoe.
Related: How To Wear A Flannel Over A Hoodie Without Looking Sloppy
Best Men's Height Increasing Shoes
The Conzuri Cloud Runners are a social media favorite for men looking for shoes that make you taller. They are invisible-lift shoes designed for a minimalist feel and maximum performance. They are perfect for those who prefer a barefoot-like experience while running, walking, or training.
Special Promo Discount: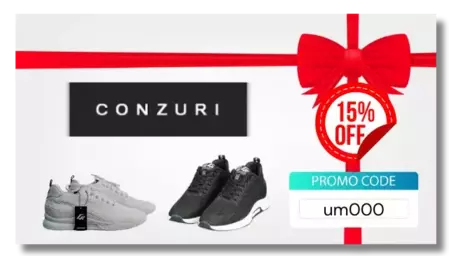 For an additional 15% off Conzuri Height Increasing Shoes, use discount code um000 during check out on Conzuri.com.
The CALTO Men's Invisible Height Increasing Elevator Shoe is a high top combination of a sneaker and a boot, or better known as a technical combat sneaker. The clean brown and grey colors and boot hybrid sneaker design will make the CALTO elevator shoe ideal for almost all outfits.
TOTO Men's Invisible Height Increasing Elevator Shoes come in brown, gray, and black and are comfortable fashion sneakers. Its casual style makes it a comfortable and stylish option for men seeking additional height. They are very durable and designed with the finest materials, including high quality leathers, elegant stitching and breathable mesh fabrics.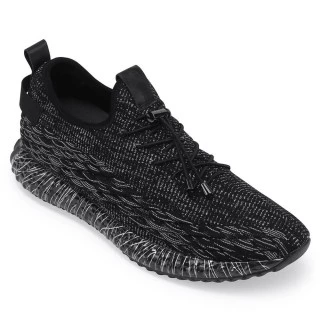 CHAMARIPA Men Elevator Sneakers are designed to provide extra height with invisible built-in height insoles so nobody will ever suspect you're wearing elevator shoes. They are lightweight and comfortable enough to train or even run in. These pairs come in mostly white and black designs but CHAMARIPA has a large line of high quality, elevated sneakers.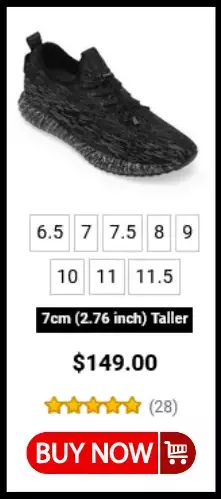 Get 10% off your first order for all Chamaripa Elevator Shoes
Battle Men is another popular brand for elevator shoe wearers, especially those looking for affordable, professional dress shoes. They have a large line of elevator Oxfords and brogues, like these faux leather black Oxfords that are chic and comfortable for all day wear.
Recyphi Men's Invisible Height Increasing Sneakers are a stylish and discreet choice when looking for a shoe to add a few additional inches to your height. Combined with an athletic design of mesh and canvas, these breathable elevator sneakers can match with any outfit and deliver comfort all-day long.
Related: How To Approach Women On The Street
Accessories And Tips To Make You Look Taller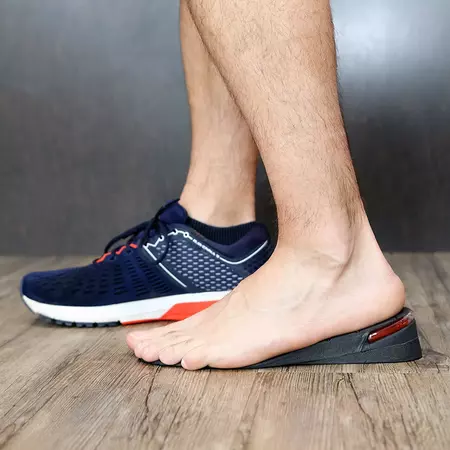 There are also a number of different accessories that can add height to your overall look. For starters, height increasing shoe insole inserts can be added into any shoe. They will discreetly give you the extra inches from inside the shoe, rather than having a visible platform or heel.
You may think it'd be uncomfortable having a few inches thick insoles in your shoes all day, but they're actually quite comfortable and can provide benefits like improving your posture.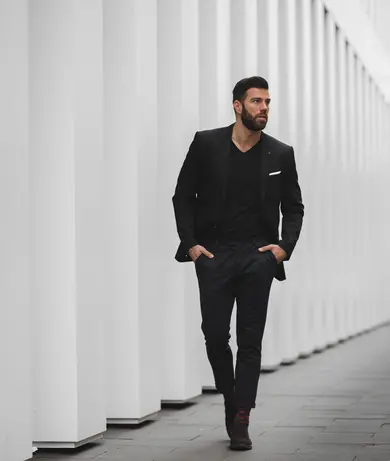 Wearing black or darker colors can help give you a leaner, elongated appearance as well. Vertical stripes and patterns are also great for helping the illusion of you being taller than you actually are. Bright and light colors may make you look wider which will result in you looking shorter.
You should avoid wearing baggy clothes as they can make you appear shorter than you are. Form fitted, dark outfits are best to give the illusion that you're taller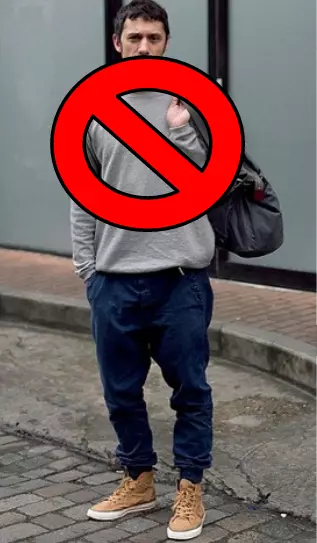 Accessories should be placed higher up on your body to draw the gaze upwards. You can accessorize with a bold tie, hat, scarf, jewelry, or a lapel pin to add a bit of class to your 'fit.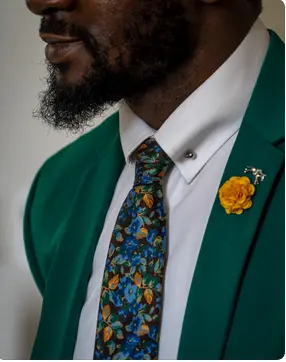 Try to also wear shorter shirts and jackets instead of ones that hang lower than your hands. A visible waistline can help elongate the legs opposed to a hidden one when wearing a baggy top.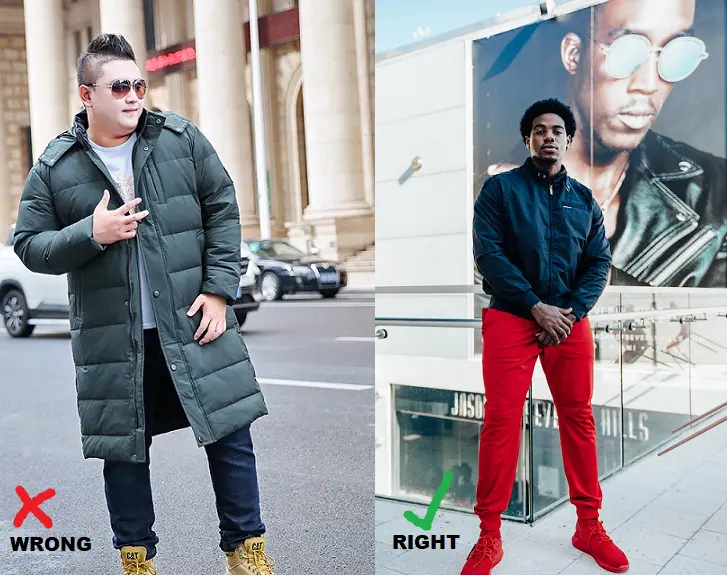 When there's no visible break between the upper and lower half of the body, it often gives off the appearance that you are shorter than you are. Pair a more fitted style with height increasing shoes to complete the illusion of a slimmer, taller you.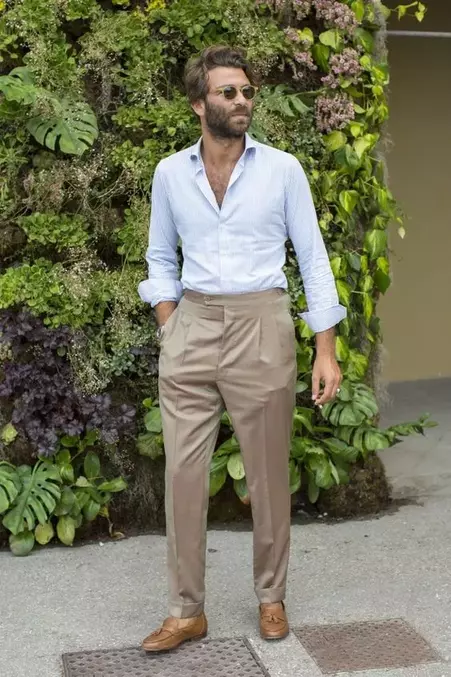 High-waisted pants can also give the illusion that your legs are longer and taller. Pair high-waisted pants with a fitted button-down shirt or blazer for an elongating, leaner look that draws the eyes upwards.
Read More: