Anklets for men are trendy and are the perfect, subtle accessory to express your own personal style.  From casual to formal outfits, anklets have become a versatile addition to a man's wardrobe. A slight glimpse of bling from under your pant leg or a more fun or artistic piece to dress up summer sandals, an anklet can help you stand out without putting in much effort.
10 Popular Men's Anklet Styles
1. Metal Anklets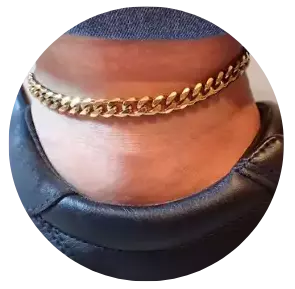 Metal anklets, often made of stainless steel, silver, or gold chains, provide a more polished and elegant look. They are suitable for all occasions and will definitely draw people's eyes towards your feet.
2. Leather Anklets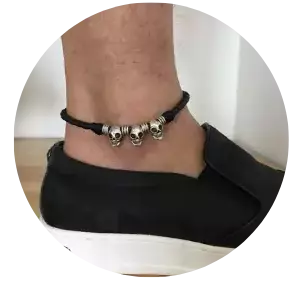 Leather anklets are a rugged and stylish option. They come in various colors and textures, often with metal accents or beads for added flair. Leather anklets are lightweight but durable, and can match well with a variety of casual and formal outfits.
3. Beaded Anklets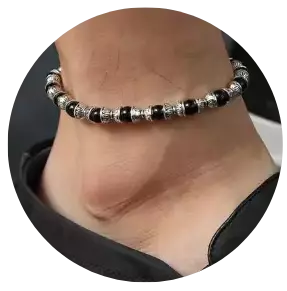 Beaded anklets are versatile and come in various bead materials like wood, stone, or metal. They can be simple or intricately designed and are popular for beachwear and laid-back styles.
4. Surfer Anklets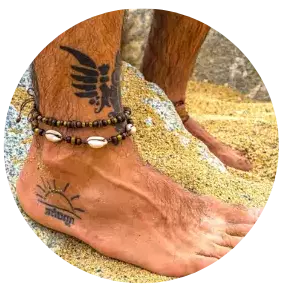 Inspired by beach and surf culture, these anklets usually feature braided cords, bright beads, shells, and other beach-themed charms. They add a laid-back and carefree vibe to your outfit.
5. Minimalist Anklets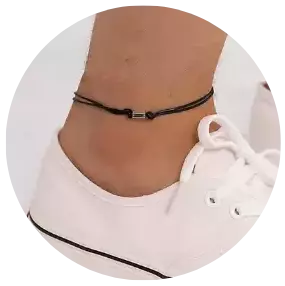 These anklets for men are subtle and sleek, often with a small pendant or charm. Simple woven threads or a skinny chain anklet are popular styles. They can be worn daily as a discreet accessory and match with everything.
6. Obsidian Anklets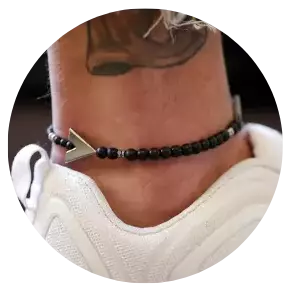 Anklets made of precious stones like black obsidian have been trending lately, not only for their fashion use but also their 'healing capabilities'. Black obsidian is said to help reduce swelling and bring cooling energy to the body.
7. Hemp Anklets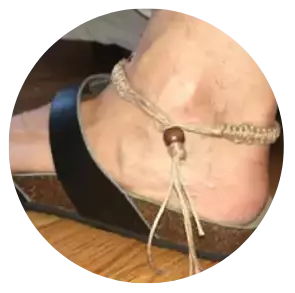 Hemp anklets are stylish accessories made from natural hemp fibers, known for their eco-friendly and sustainable nature. These anklets add a touch of bohemian, nature-loving flair to any outfit.
8. Braided Anklets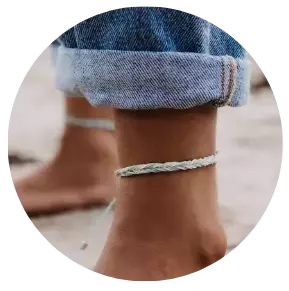 Anklets for men with braided designs offer a simple but versatile and playful look. They can be made of various materials like leather, fabric, or even metal and come in all varieties of colors. An effortless cool.
9. Rope/Wire Anklets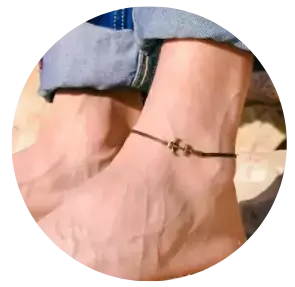 Rope anklets for men, often made of nautical-inspired cords, give a maritime feel to your style and are perfect for beach or summer outfits. A simple thin, wire or leather cord is all the design entails, and you can include a pendant or two for a bit more style.
10. Religious or Spiritual Anklets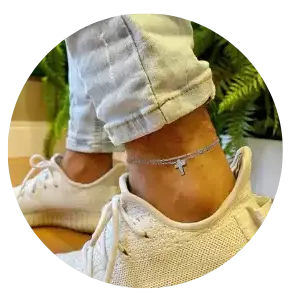 For those with a strong connection to their faith or spirituality, anklets featuring religious or spiritual symbols can hold significant meaning. These anklets may showcase symbols from various religions, such as crosses, Om symbols, hamsas, or other meaningful emblems.
How To Wear Anklets For Men
Casual Cool
Embrace a laid-back, beach-inspired look by pairing a surfer anklet or braided rope anklet with your favorite shorts, a T-shirt or a relaxed-fit button-down shirt, and boat shoes or sandals. This effortless combination effortlessly infuses a touch of surfer, summer charm into your overall appearance.
Urban Edge
Rock an urban style by opting for a stainless steel or chain link anklet alongside ripped jeans, a graphic tee, and high-top sneakers. This edgy ensemble creates a bold statement, perfect for a night out with friends or a concert.
Sophisticated Chic
Elevate your formal wear with a sleek and minimalist anklet made of silver or titanium. Match it with tailored trousers, a crisp dress shirt, and leather loafers. This subtle addition adds a touch of refinement to your overall look.
Bohemian Wanderer
Embrace a boho-inspired look by wearing a beaded anklet made from natural materials like wood or lava stones. Pair it with loose-fitting linen pants, a flowy shirt, and comfortable sandals. This carefree and adventurous style is perfect for beach vacations or music festivals.
Sporty Chic
For a sporty yet stylish appearance, opt for a silicone or rubber anklet with subtle design details. Pair it with your favorite activewear, such as gym shorts, a fitted tank top, and athletic sneakers. The anklet adds a touch of individuality to your athletic ensemble.
Popular Anklets For Men
This anklet boasts a contemporary urban design with interlocking Cuban links. It's made of 316L stainless steel that's 18K gold plated, nickel free, and hypoallergenic, suitable for sensitive skin. Its durable construction and versatile style make it a hit among fashion-forward men seeking a touch of modern flair.
These anklets for men and women are great if you're looking for more of a boho, surfer vibe. Hand-made with high quality, sustainable material, this 2 band surfer anklet is waterproof, adjustable, and comes in a ton of different colors and designs. Perfect for festivals or just hanging at the beach.
Crafted from genuine leather and alloy beads, this handmade anklet features a sleek tribal design that adds an element of cool to any outfit. Its lightweight feel and adjustable straps make for a comfortable, barely there feeling.
If you're going for a bohemian aesthetic, this hand-made jasper stone anklet is a versatile addition to your accessory collection. It features a simple black cord and a discreet silver accent with precious jasper stones in subtle earth tones to match with a variety of outfits.
Embrace a maritime vibe with this anchor-themed anklet. Hand-crafted from from durable wax cord and stainless steel, it's a great choice for men who want to showcase their playful, adventurous spirit through their style.
Keep things simple and classy while channeling your inner minimalist with this thin, diamond-cut snake chain. It's made of high quality, authentic 925 sterling silver that's hypoallergenic and nickle-free, safe for sensitive skin types. The perfect accessory for every day wear or a more dressed up night out.
Related: Rock The Best Men's Crossbody Bags: Practical Style
Can Men Wear Anklets?
With traditional gender norms often influencing people's perceptions of fashion, some may perceive men wearing any other jewelry besides their wedding ring as feminine or unnecessary. While those people may have an old fashioned way of looking at things, the current generation of fashion forward enthusiasts say yes, not only can men wear anklets, it's definitely in style and attractive.
Accessories are no longer just for women and anklets for men come in a wide variety of styles and designs for men to suit your personal style and personality. And no, there's no such thing as the 'gay ankle' like the 'gay ear'. Feel free to wear your anklet on any side you so choose.
Also Read: