Whether it's a casual hangout or a formal event, rocking a silver bracelet effortlessly upgrades your look. We know, you may not be a jewelry guy– many aren't, but a silver bracelet for men is a subtle accessory that will have you looking and feeling fancy with low effort.
Unlike some other materials that may be too bold or feminine, silver bracelets are refined and classy while still being casual. The cool tones of silver also complement a wide range of outfits, making it a versatile accessory that can be paired with various clothing styles. Investing in a high quality silver bracelet can be a solid addition to your wardrobe.
Choosing the Right Type of Silver:
When shopping for silver bracelets, it's essential to consider the type of silver used. The most common options include pure silver (also known as fine silver) and sterling silver.
Pure Silver: Made of 99.9% silver, pure silver is exceptionally soft and malleable. While it boasts the highest silver purity, it is not suitable for intricate designs and can easily bend out of shape.

Sterling Silver: Sterling silver consists of 92.5% silver and 7.5% alloy, usually copper. This alloy strengthens the silver, making it more durable and suitable for crafting intricate and detailed designs. Sterling silver strikes an excellent balance between purity and strength, making it a popular choice for men's bracelets.
Other options, such as silver-plated or stainless steel with silver finish, are available at more affordable prices, but they may lack the same quality and durability as pure or sterling silver.
What to Look for When Shopping For Silver Bracelets:
When searching for the perfect silver bracelet, keep the following factors in mind:
Purity: Opt for sterling silver (marked 925) to ensure both quality and durability.
Design: Choose a design that resonates with your personal style, whether it's minimalist, rugged, or classic.
Clasp: Look for a sturdy and secure clasp that won't easily come undone.
Weight: Consider the weight of the bracelet to ensure comfort during wear.
Size: Ensure the bracelet fits snugly but comfortably around your wrist.
10 Popular Designs for Men's Silver Bracelets
1. The Classic Chain Bracelet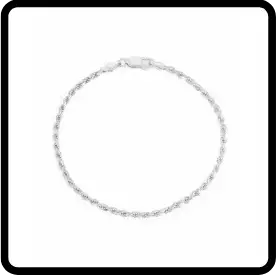 A timeless design featuring interlinked silver loops, the classic chain bracelet is a versatile piece that suits any occasion.
2. Braided Silver Bracelet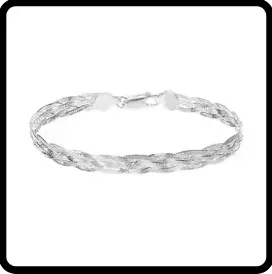 A variation of the classic chain, the braided silver bracelet features interwoven links, offering a textural and stylish appeal.
3. The Cuff Bracelet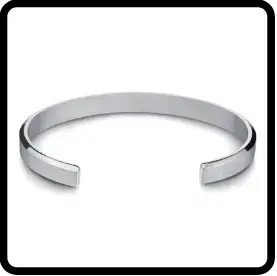 A bold statement piece, the cuff bracelet wraps around the wrist with an open back, showcasing intricate patterns or minimalist engravings.
4. The Personalized ID Bracelet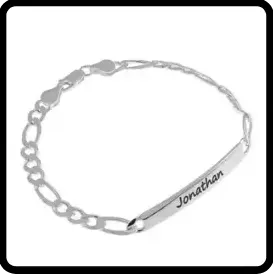 This design allows you to add a personal touch, such as your name or initials, creating a unique and sentimental accessory.
5. The Minimalist Bead Bracelet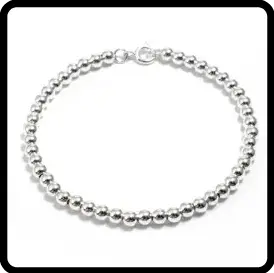 A simple yet stylish option, the bead bracelet features small silver beads threaded onto an adjustable cord, offering a casual and contemporary look.
6. Figaro Chain Bracelet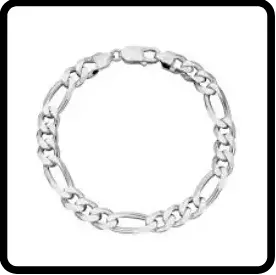 Inspired by the classic Figaro chain necklace, this design features alternating links of varying sizes, adding a touch of sophistication and elegance to the wrist.
7. Anchor Link Bracelet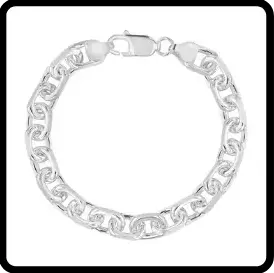 Reminiscent of nautical themes, the anchor link bracelet showcases links shaped like anchors, representing strength and stability.
8. Cuban Link Bracelet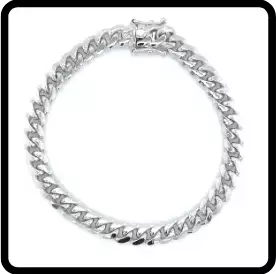 The Cuban link design features tightly interconnected silver links, creating a bold and luxurious look suitable for those who want to modernize their style.
9. Bangle Bracelet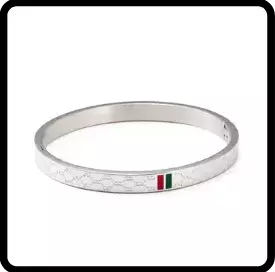 A solid and sleek design, the bangle bracelet is a cuff-style accessory that is often wider than traditional cuffs, adding a sophisticated and contemporary touch to any outfit.
10. Motorcycle Chain Bracelet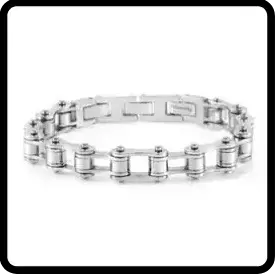 Inspired by motorcycle culture, the motorcycle chain bracelet features large and heavy links that exude a rugged and edgy look.This bold and statement-making accessory is favored by men who want to showcase their rebellious and adventurous side.
Average Price of Silver Bracelet For Men
The price range for men's silver bracelets can vary depending on factors like design, craftsmanship, and silver purity. On average, a sterling silver bracelet may cost anywhere from $50 to $300. High-end designer pieces or those with intricate detailing or gems may exceed this range.
Best Budget Silver Bracelets for Men
The FIBO STEEL Curb Chain Bracelet exudes timeless elegance with its classic curb chain design. Crafted from 925 sterling silver, this bracelet offers both durability and sophistication. Its 4mm width strikes a perfect balance between subtlety and statement, making it suitable for various occasions and outfits.
Material: 316L Stainless Steel
Size: 8.5" long/ 6mm wide
The Miabella Solid Cuban Link Curb Chain Bracelet boasts a bold and luxurious design. Made from solid 925 sterling silver with a diamond-cut finish, this 9mm wide bracelet catches the light to create a striking shimmer. Ideal for those who want to make a statement, this piece is perfect for special events or elevating your everyday style.
Material: Solid 925 Sterling Silver
Size: 8″ long / 9mm wide
The Amberta Fine Double Curb Chain Bracelet showcases a unique and eye-catching double curb chain design. Crafted from 925 sterling silver, this bracelet delivers a blend of strength and finesse. It includes a sturdy, durable spring clasp with a tight closure to reduce the chance of catching on fabrics or hair.
Material: 925 Sterling Silver
Size: 7.5″ long / 4.5 mm width
The PROSTEEL stainless steel figaro chain bracelet is another popular stylish, durable silver bracelet for men. It's mix of figaro and Cuban link chains give the perfect blend of subtle flare and is finished with a matching high quality lobster clasp. Whether you are wearing a business suit, casual outfit or blue jeans, you will look tastefully refined in this men's figaro link bracelet.
Material: 100% Solid stainless steel
Size: 7.5″ long / 6 mm width
The VNOX Personalized Cuff Bangle Bracelet offers a unique and sentimental touch to your accessory collection. Crafted from 925 sterling silver, this cuff bracelet features a sleek and minimalistic design that effortlessly complements any outfit. What sets this piece apart is the option to customize it with your own monogram or initials, making it a thoughtful and personalized gift or a cherished keepsake for yourself.
Material: 925 Sterling Silver
Size: Adjustable
Related: Why Are The Bottom Of My Feet Yellow
How to Clean a Silver Bracelet at Home
Silver bracelets, like any jewelry, require regular cleaning to maintain their luster and shine. Here's a simple step-by-step guide on how to wash a silver bracelet:
Materials Needed:
Mild Dish Soap or Silver Cleaning Solution
Soft Microfiber Cloth or Jewelry Cleaning Cloth
Soft-bristled Toothbrush (optional)
Step 1: Prepare a Cleaning Solution
Fill a small bowl with warm water. Add a few drops of mild dish soap or a specifically formulated silver cleaning solution to the water. Mix it gently to create a soapy solution.
Step 2: Soak the Bracelet
Place the silver bracelet into the bowl of the cleaning solution. Allow it to soak for about 5-10 minutes. This helps loosen any dirt, oils, or residue accumulated on the bracelet.
Step 3: Gently Clean the Bracelet
After soaking, use a soft microfiber cloth or a jewelry cleaning cloth to clean the bracelet. Gently rub the surface of the silver, paying attention to intricate areas and any gemstones or detailing. For stubborn dirt or crevices, you can use a soft-bristled toothbrush to clean more effectively.
Step 4: Rinse Thoroughly
Rinse the bracelet under lukewarm running water to remove any soapy residue. Ensure all traces of soap are washed away, as any remaining residue can dull the shine of the silver.
Step 5: Dry the Bracelet
Pat the bracelet dry using a clean, dry microfiber cloth. Avoid rubbing too vigorously to prevent any scratches or damage to the surface of the silver.
Step 6: Polish (Optional)
If desired, you can polish the silver bracelet using a silver polishing cloth or a specialized silver polishing compound. This step will enhance the bracelet's shine and remove any remaining tarnish.
Step 7: Store Properly
Once the bracelet is dry and polished, store it in a jewelry box or a soft pouch to protect it from dust, moisture, and potential scratches.
Tips:
Avoid using harsh chemicals, bleach, or abrasive cleaners, as they can damage the silver's surface.
Remove the silver bracelet before swimming, bathing, or engaging in activities that expose it to chemicals or excessive moisture.
Clean your silver bracelet regularly to prevent tarnishing and maintain its brilliance.
Read More: