If you're looking for self tanner for men, you're probably tired of blinding people when taking your shirt off at the beach. While some people are just naturally pale, others may not be able to spend a lot of time in the sun, resulting in looking like they sit in front of a computer all day.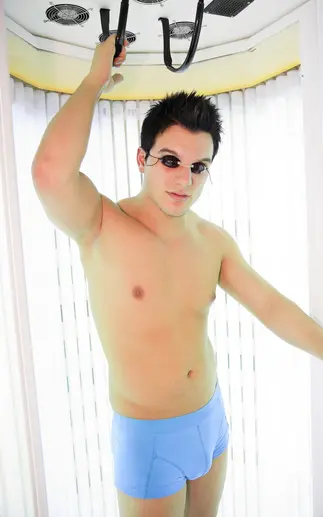 You want to go out and get a tan, but then people will see how pale you really are. It can make you feel a bit self-conscious. Or you may have the skin type where sitting out in the sun longer than 20 minutes will make you as red as a tomato or even cause sunburn.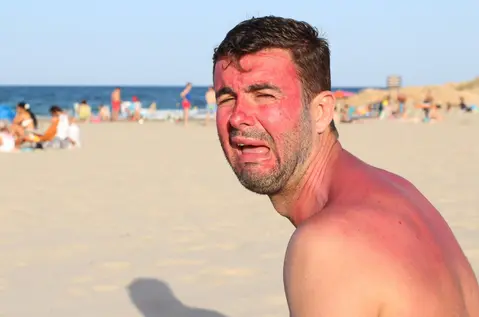 If any of those characteristics describes you, you may try your hand at self-tanners. They have really come a long way from the days where you look like you're an Oompa Loompa that's just taken a dip in a vat of carrot juice.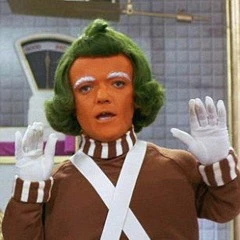 A nice, bronze tan will make you look healthier, more active, and more fit- hence why body builders lather themself up with dark tanner during competitions.
Types of Self Tanner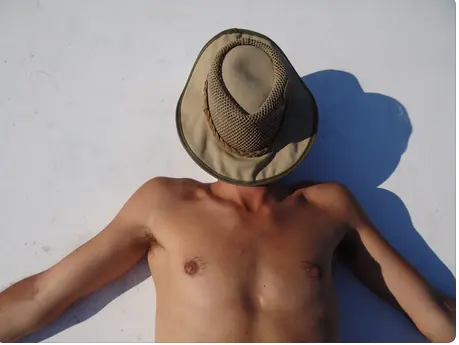 Self-tanning products typically come in one of three forms: lotions, mousse, and sprays.
Lotions
Lotions are usually the easiest to apply evenly and can be worked into the skin the same way you'd apply any other lotion for a natural-looking finish. The tan is more subtle and the color tends to gradually build instead of being too dark after first-time use. There's less chances of splotches and uneven areas and results are typically very natural.
Mousse/Foam
Mousse/foam self tanners are generally easy to apply evenly, which reduces the risk of streaks and uneven color. The foam texture allows for smooth and easy application, ensuring that you don't miss any spots or go too heavy in some areas. Self tanning mousses and foams will give you darker and quicker results than self tanning lotions . They are a lot more potent though so you need to be more cautious with application.
Sprays
Sprays are easy to use, don't need to be as concise, and can give you the most natural summer tan result. They allow gradually building your tan by how heavy you spray and how many coats you apply. They may not be the best for more exact application and tend to have a strong odor during application. It's best to lay a towel on the floor and not stand by walls so you don't leave a sticky residue.
When choosing a self-tanner, it's important to consider your individual skin type.
If you have dry skin, you'll want to opt for a lotion or cream that will hydrate as it tans. Oily skinned guys should look for oil-free formulas that won't clog pores or cause breakouts. And if you have sensitive skin, it's important to choose a hypoallergenic product that won't irritate your skin.
How Long Do Self Tanners Last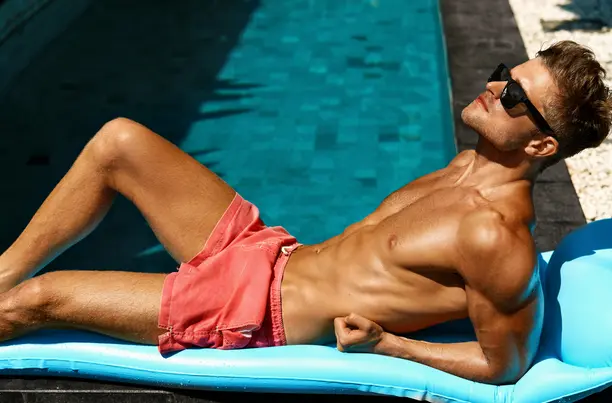 How long self tanner lasts depends on the product, how well it's applied, and how often the skin is washed or exfoliated. Most self-tanners will last between 3-6 days before they begin to fade or wear off. However, some self-tanners can last up to 10 days or more if they contain a higher concentration of DHA (the active ingredient that produces the tanning effect).
To extend the life of a self-tanner, it's recommended to avoid excessive sweating, swimming, and exfoliating the skin. Additionally, moisturizing regularly can help to prolong the life of the tan.
Make Sure To Exfoliate Before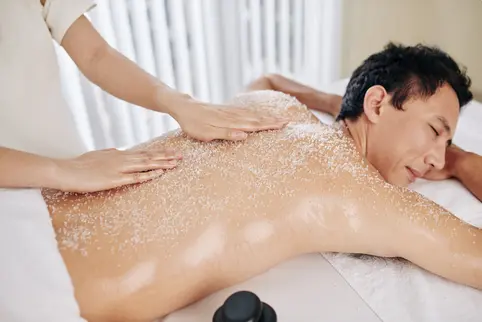 Just as you wouldn't paint something without cleaning and smoothing the canvas first, you must not skip exfoliating when using self tanner. In order to get the most even application without obvious splotches and patches, it's best to exfoliate your face and body with an exfoliating body wash. This will help scrub away any dead skin on your body for a cleaner, smoother canvas.
Also be sure to exfoliate and moisturize your dryer body parts like the hands, knees, ankles, and elbows. Use self-tanner sparingly on these areas as well as they tend to saturate very easily.
Related: Hoochie Daddy Shorts: Show Off Of Those Buns And Thighs
The Best Self Tanner for Men
Bondi Sands Self Tanning Foam is a coconut and aloe vera enriched self tanning foam that is super lightweight and easy to apply. The salon quality foam formula will leave you with a streak-free finish of dark, tanned skin.
Jergens Natural Glow + Firming Self Tanner lotion is a popular, drug-store favorite for a self tanning lotion that gradually builds a tan. This simple to use self tanner lotion can be used as a daily moisturizer and not only makes you tan but also firms your skin. This lotion can be applied without having to be washed off and won't stain your clothes.
b.tan Dark Self Tanner Mousse is a social media favorite among women and men beauty influencers. When a quick tan is needed for an unexpected date, this self tanning mousse starts to develop color in just one hour. It contains vegan ingredients with no harsh chemicals and can be used on body and face without clogging pores.
For a drugstore product, this stuff is strong. Neutrogena Micromist Airbrush Sunless Tanning Spray comes in an airbrush can where you can gradually spray your way into a bronzed god. The well known Neutrogena brand comes with an oil-free and alcohol-free formula, making this self tanner spray safe for all skin types. It's easy to use but be careful if getting an even application without one area being saturated too much.
Another well know and trusted brand in the tanning industry, St. Tropez Classic Self Tanner BronzerMousse is a tinted tanning mousse that's easy-to-apply, streak-free and gives you great color for up to 10 days. It is quick drying, non-sticky, and has no fake-tanner odor, making it comfortable enough to be worn under clothing without needing to be washed off.
Beauty by Earth Self Tanner Tanning Lotion is an all natural, organic self tanner lotion which allows you to gradually build a deep tan without turning orange. Apply twice a day for best results and see a natural, darker shade within 6-8 hours. Its clean ingredients makes it safe enough for the face and body.
Read More: