Jorts for men are comfortable, casual, and stylish. See different ways to style jorts.
Summer is here, and that means it's time to break out the shorts. But, have you considered upgrading your wardrobe with a pair of jorts? Jorts, or jean shorts, are a versatile and stylish addition to any man's summer wardrobe.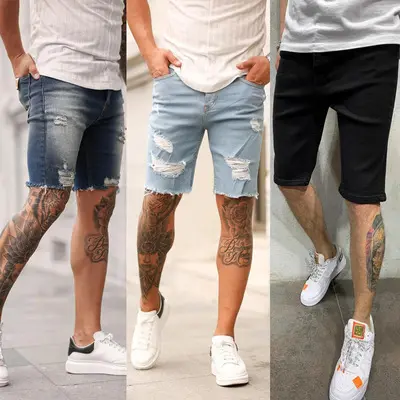 Originally gaining popularity in the 1980s, jorts have been a staple trend among skateboarders and surfers. Over the years, jorts have come in and out of fashion, but they have never truly gone away and can be styled in many different ways.
Are Jorts for Men in Style in 2023?
Jorts are definitely in style for men this summer. In fact, many high-end fashion brands debuted their rendition of jorts in their Spring and Summer 2023 runways, including Gucci, Givenchy, and Fendi.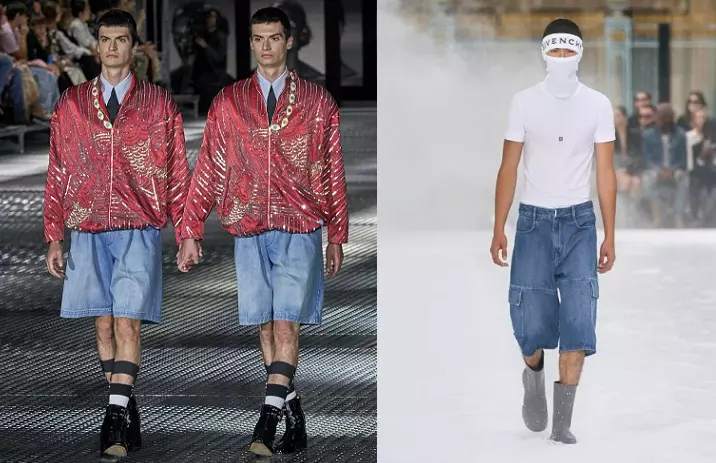 Jorts are the perfect way to stay cool and comfortable during the hot summer months, while still looking stylish and put-together. A nice upgrade from sweat pants or work out shorts while still keeping it casual.
Read More: How To Get Veiny Arms and Hands – Quick Exercises
How to Style Jorts for Men
Jorts are incredibly versatile, and they can be styled in many different ways. Here are a few ideas to get you started:
Casual Look
Pair your jorts with a simple t-shirt, tank top, or sweater, and finish off the look with a pair of sneakers or sandals. Light blue jeans and faded-washed jeans are great for any chill occasion. It's the perfect outfit for a day at the beach or a casual barbecue with friends.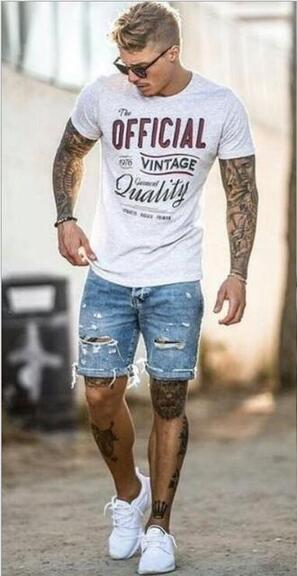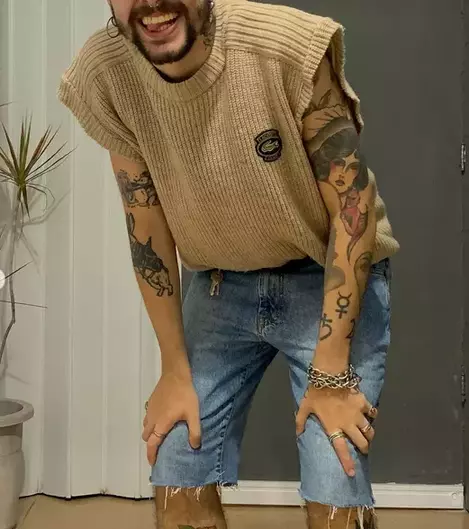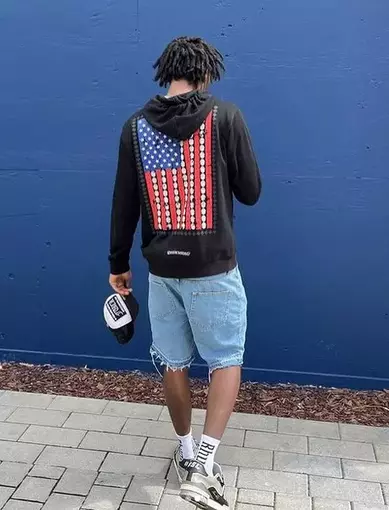 Shop Similar Products:

GORGLITTER Men's Ripped Denim Shorts
Streetwear Look
For a more urban look, darker, distressed jorts are all the rage. Try pairing your jorts with a nice flannel or chic jacket for a night out on the town. A pair of high-top sneakers or boots and a snapback hat are a good way to accessorize and make your casual attire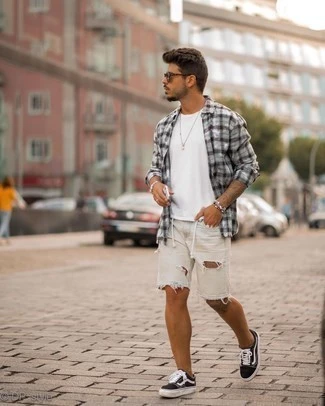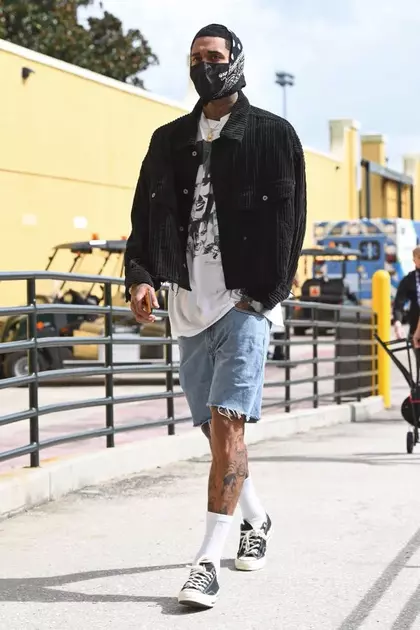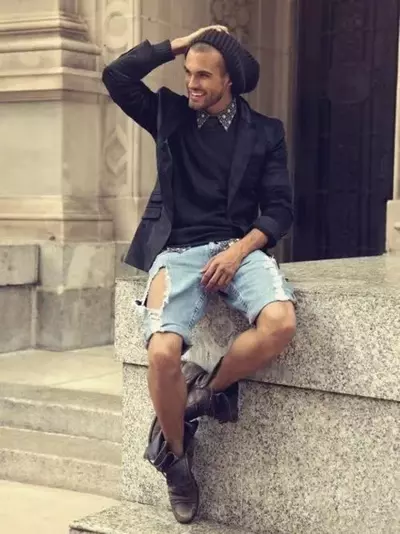 Shop Similar Products:

QZH.DUAO Men's Ripped Denim Shorts
Smart Casual Look
Jorts can even be dressed up for a more formal occasion. Try pairing your jorts with a button-up shirt, a blazer, and a pair of loafers or dress shoes. White jorts are great for more of an office friendly, preppy looks. This look is perfect for a summer wedding or a fancy dinner date.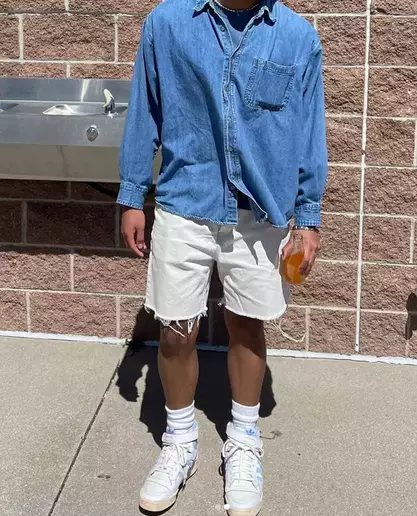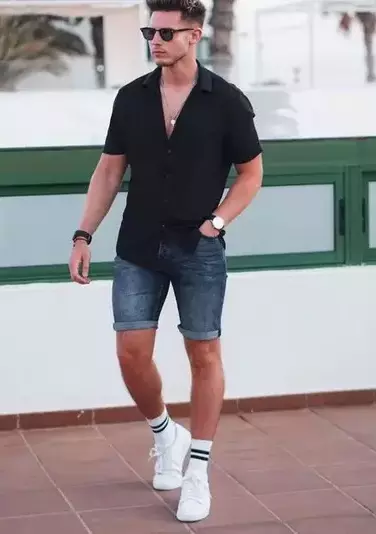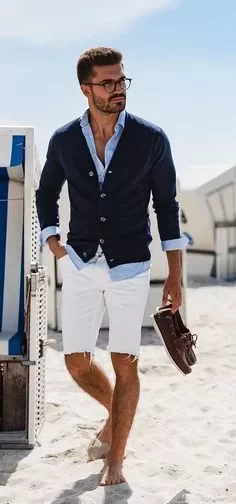 Shop Similar Products:

Enrica Men's Ripped Distressed Slim Fit
Related: Eyebrow Tinting for Men: The Lowdown on Brow Tint
Cheap Jorts for Men
If you're looking for a more affordable option, there are plenty of cheap jorts for men available. Many fast fashion retailers, such as H&M and Forever 21, offer a wide selection of jorts for men at affordable prices. Additionally, thrift stores and vintage shops are great places to find unique and affordable jorts.

Levi's Men's 511 Slim Cut-Off Short
When shopping for cheap jorts, pay attention to the fit and quality of the denim. It's important to make sure that the jorts fit well and are made from durable denim that will hold up over time. You don't want to end up with a pair of jorts that fall apart after one wear. Cheap jorts will lose their hemming and you may one day end up with booty jorts!
Popular Cheap Men's Jorts
Related: The Best Padded Underwear For Men: How To Wear
How to Make a Pair of Jorts for Men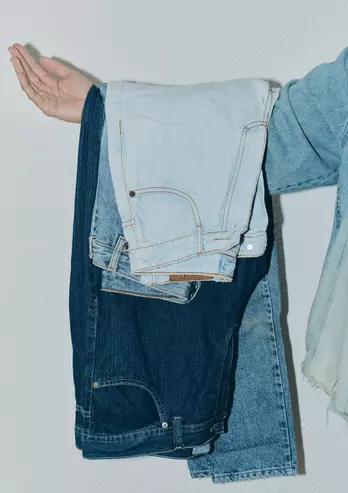 One of the best things about jorts is that you can make them yourself. All you need is a pair of old jeans, a pair of scissors, and some sandpaper. Here's how to do it:
Step 1: Find the Right Pair of Jeans
You want a pair of jeans that fit well, but that you don't mind cutting up. Look for jeans with a straight leg or a slim fit, and avoid anything with too much stretch. Thicker jeans are better for jorts since they can withstand washing/drying as well as normal wear and tear.
Step 2: Cut off the Legs
Put on the jeans and mark where you want the shorts to end. It's up to you how long you want your jorts to be but they are typically cut right above the knee. Use a pair of sharp scissors to cut straight across both legs.
Step 4: Wash and Dry
To encourage the fabric to fray more easily, wash and dry your jorts first. This will loosen the fibers and make them easier to manipulate.
Step 5: Fray the Hemline
Using a pair of tweezers or your fingers, start pulling out a few threads from the hemline. A popular method to help with fraying is to use a piece of sandpaper to rough up the hemline, creating a frayed edge. You can also use a razor blade or a box cutter to create small tears and holes for a more distressed look.
Step 6: Trim Uneven Threads
After fraying the hemline, you may notice some uneven threads. Use a pair of scissors to trim these threads so that the hemline looks even and there aren't any loose ends hanging.
Step 6: Wash and Dry
Wash the jorts in cold water and then dry them on a low setting. This will help to further distress the denim and give your jorts a worn-in look. Some find washing and drying a few times is helpful at least before wearing your jorts for the first time.
Step 7: Wear Frayed or Folded
Now that your jorts are ready, you can wear them just as they are with the frayed hem showing or fold them up about an inch. A folded hem may give you more of a clean cut, polished look, while the visible frayed hem gives off a more casual, surfer vibe.
Read More: