The summer sun is blazing, and it's time to let your feet breathe while not looking like a bum. Men's huarache sandals are making a return to the fashion scene as the go-to men's summer sandal.
For the times you don't want to wear socks but flip-flops would be a little too under-dressed, huarache sandals are the perfect choice for both comfort and style. Whether you're strolling the boardwalk or lounging at a rooftop bar, huaraches are not only appropriate for the occasion but can complement your laid back, but still polished 'fit.
What Are Huarache Sandals?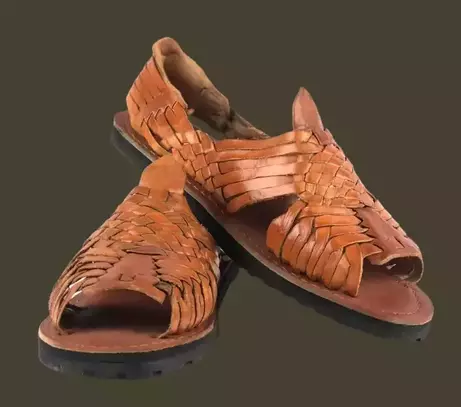 Huarache sandals (pronounced: wuh·raa·chee) are an unmistakable style of footwear with a rich history that dates back to ancient Mexico. Crafted from intricately woven leather strips, these sandals were originally created by indigenous artisans to provide comfort, durability, and ventilation in the hot desert climates. 
Modern huarache sandals for men retain the essence of their traditional counterparts while mixing in contemporary design elements. The woven leather patterns remain a hallmark of huarache sandals, making them both distinctive, versatile, and stylish.
Are Huarache Sandals for Men in Style?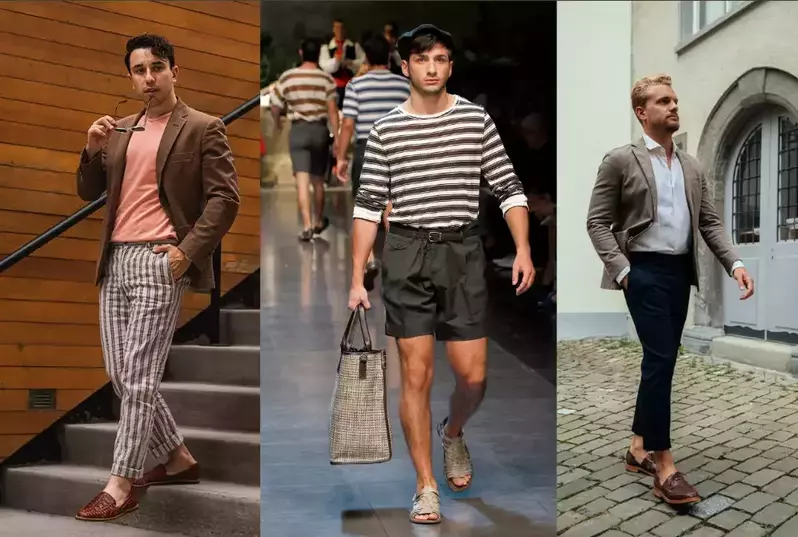 Absolutely! Men's huarache sandals have always remained in style but are recently making a bigger come back. As the fashion landscape embraces more eclectic and culturally influenced styles, huarache sandals are finding their place on the feet of trendsetting individuals.
The combination of traditional craftsmanship, comfort, and refinement give huarache sandals a timeless appeal and make them a go-to, popular choice for men's summer sandals. They effortlessly bridge the gap between casual and semi-formal, making them a versatile option for a variety of occasions.
How to Wear Men's Huarache Sandals
Wearing huarache sandals is all about striking the perfect balance between relaxed and refined. We all know that what shoes you wear can drastically change your whole outfit. Fortunately, huaraches can be worn with many different styles.
Here are some outfit ideas to help you rock your huaraches:
Beachside Charm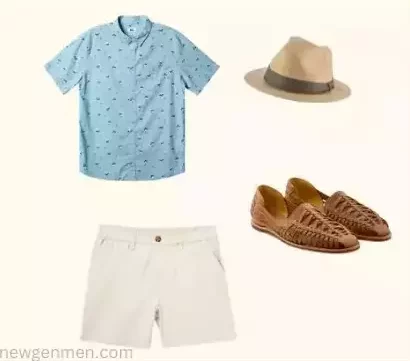 Pair your huarache sandals with swimming trunks or hoochie daddy shorts, a short-sleeve linen button-down shirt, and a sun hat. This ensemble exudes laid-back sophistication for a day by the beach or poolside lounging.
City Explorer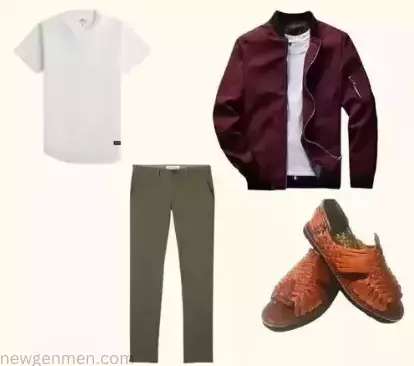 Combine your huarache sandals with slim-fit chinos or jeans, a classic white T-shirt, and a lightweight bomber jacket. Complete the look with a stylish wristwatch and round-frame sunglasses for an urban adventure.
Rooftop Ready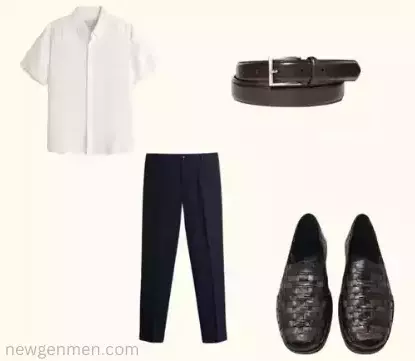 Elevate your evening style by wearing huarache sandals with tailored trousers, a crisp long or short sleeve button-up shirt, and a sleek leather belt. This outfit strikes the ideal balance between casual comfort and refined elegance.
Festival Vibes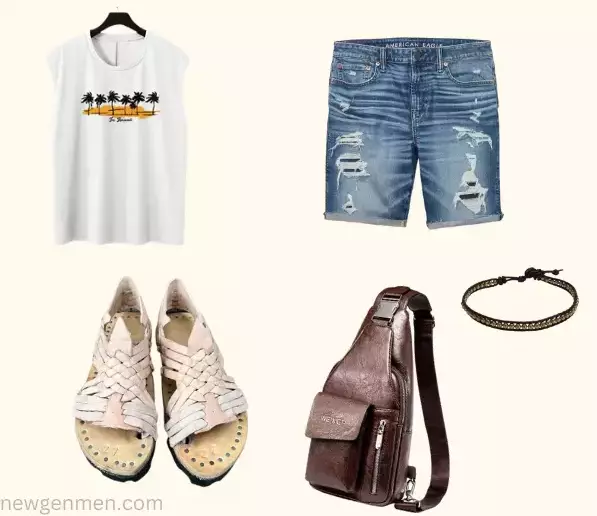 Embrace the bohemian spirit with huarache sandals, distressed denim shorts, and a graphic tank top. Top off the look with fun and simple accessories like beaded or woven bracelets/anklets and a crossbody bag.
The Best Huarache Sandals for Men
To help you step into summer with the utmost style, we've scoured the fashion scene and social media to find the best huarache sandals for men, each with a unique flair that's sure to turn heads:
Crafted from genuine buffalo leather, Deer Stags Men's Huarache Sandals offer quality craftsmanship at an affordable price. The design offers full coverage with airy weaving for excellent breathability. These huaraches effortlessly complement both casual and semi-formal outfits, making them a versatile addition to your collection.
Sunsteps Barclay Men's Huarache Sandals feature a contemporary twist on the traditional huarache design. Crafted with exquisite detail, these huaraches feature a hand-woven leather upper that showcases impeccable craftsmanship and a soft cushion footbed ensures that each step feels like a cloud beneath your feet, offering all-day support and relaxation.
Slip into EL CHARRO Men's Huarache Sandals for an effortless yet stylish look. These authentic Mexican huarache sandals for men are handmade and boast a sleek leather upper with minimalist weaving details, making them a chic choice for casual outings. The high quality genuine leather is stretchy and breathable for ultimate comfort and longevity.
Nisolo Men's Huarache Sandals are luxurious, handmade huaraches that feature the perfect blend of comfort and style. These huaraches men's sandals feature handwoven and waterproof leather that will form to your foot over time as well as a shock-absorbing, foam midsole cushioning for all-day comfort. You'll enjoy the softness of the leather and high quality weaving for the perfect summer shoe that goes with a wide range of outfits.
Elevate your summer style with Dona Michi's Authentic Huarache Sandals for men. The genuine leather and rubber sole construction offers a luxurious and comfortable feel, and the intricate weaving adds a touch of artistry to these sandals. With a focus on both aesthetics and comfort, these huaraches are a classic, authentic Mexican huarache style with modern craftsmanship.
Related: Crew Socks vs Ankle Socks: When To Wear What
Health and Comfort Benefits
Huarache sandals aren't just a stylish accessory, they offer a range of health and comfort benefits that cater to those who spend a lot time on their feet. One of the standout features of huarache sandals is their ergonomic design, which supports natural foot movement. Unlike many conventional shoes that constrain the feet, huaraches allow for greater flexibility and toe splay. This can contribute to better posture by promoting a more natural alignment of the feet and body.
Huaraches are also renowned for their breathability. The traditional woven construction of the sandals allows air to circulate around the feet, reducing the likelihood of moisture buildup and the growth of odor-causing bacteria. This enhanced ventilation is particularly beneficial during hot and humid weather, as it helps to keep the feet cool and comfortable. As a result, huarache sandals can be a fantastic choice for individuals with sweaty feet or fungal infections.
Tips for Caring and Maintaining Huarache Sandals
To ensure that your huarache sandals remain in excellent condition, proper care and maintenance are a must. Begin by cleaning your sandals regularly, especially after wearing them in dusty or muddy environments. Gently brush off any dirt and debris from the woven straps and footbed using a soft brush or cloth. For deeper cleaning, you can use a mild soap and water solution, but avoid submerging the sandals completely.
When it comes to storage, it's a good idea to keep your huarache sandals in a cool, dry place away from direct sunlight. This prevents fading and deterioration of the materials. To help maintain the sandals' shape, stuff the toe area with newspaper or a shoe tree while storing them.
Also Read: