Picture yourself lounging under the warm sun, sipping a refreshing cocktail, and basking in the serene ambiance of a luxury resort. The perfect getaway demands the perfect wardrobe, and that's where resort casual attire comes into play.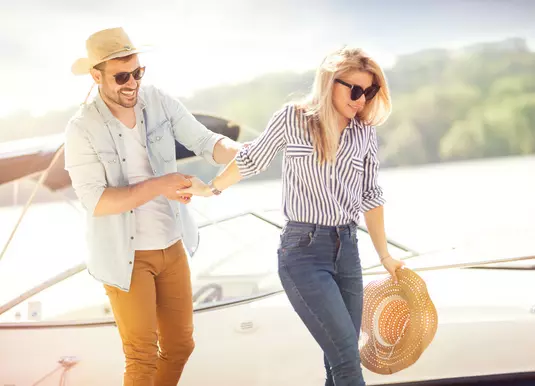 In this guide, we will unravel the secrets of resort casual attire for men, exploring what it entails, what to wear, and how to effortlessly style this sophisticated look.
What is Resort Casual Attire for Men?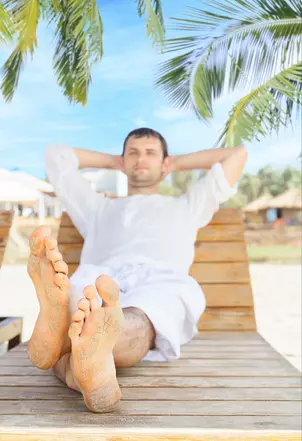 Resort casual attire for men is all about blending comfort and style effortlessly. It's the ideal choice for vacations, upscale resorts, beach side retreats, and outdoor soirées. It's a break from the suit and tie or work boots where you'll enter a world of khaki shorts, breezy tops, and a constantly topped-off drink in your hand.
While resort casual attire encourages a laid-back vibe, it also requires a certain level of sophistication to ensure you look relaxed yet still refined.
What to Wear For Resort Casual Attire
Shirts
Remember to pack a mix of shirts, both short-sleeved and long-sleeved, to cater to different weather conditions. Opt for lightweight, breathable fabrics like linen or cotton in soft hues such as pastels, whites, or earthy tones. Short-sleeved button-down shirts, polo shirts, or linen shirts with a relaxed fit are excellent choices. Patterns like subtle stripes or tropical motifs can add a touch of personality to your ensemble.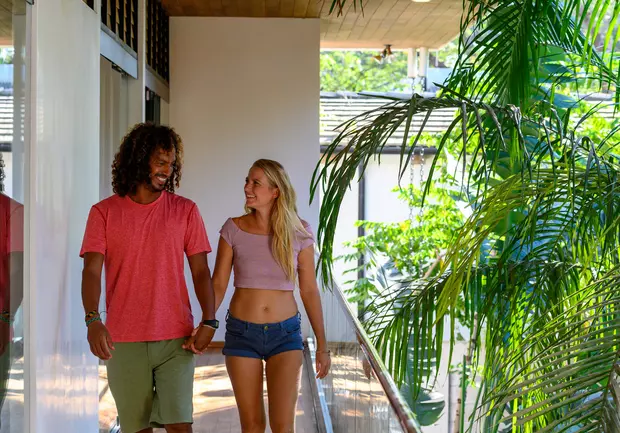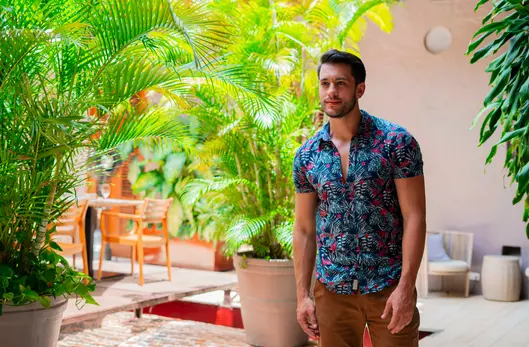 Shop Similar Styles on Amazon:
Coofandy Men's Hawaiian Floral Cotton Linen Button Down
POLO RALPH LAUREN Men's Classic Fit Polo Shirt
Jacket or Blazer
You may be traveling somewhere tropical but weather conditions can be unpredictable and you may experience colder weather or storms. It's best to pack a light jacket, blazer, or long-sleeve button down just in case. A light spring jacket like a denim or Members Only jacket is stylish and lightweight. A sporty, linen blazer can also come in handy if you're attending a formal dinner or date night. If you know you won't encounter exceptionally chilly weather, a long-sleeve button down should be warm enough and is perfect for resort casual attire.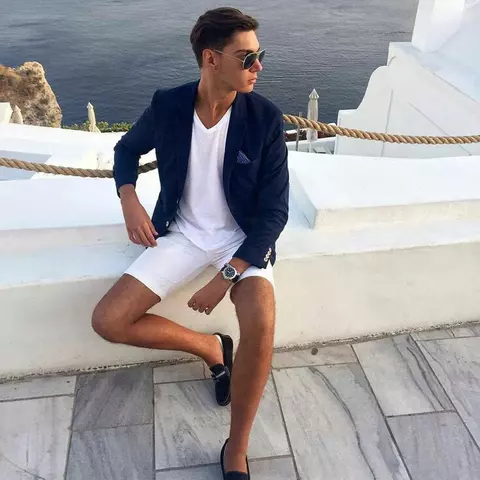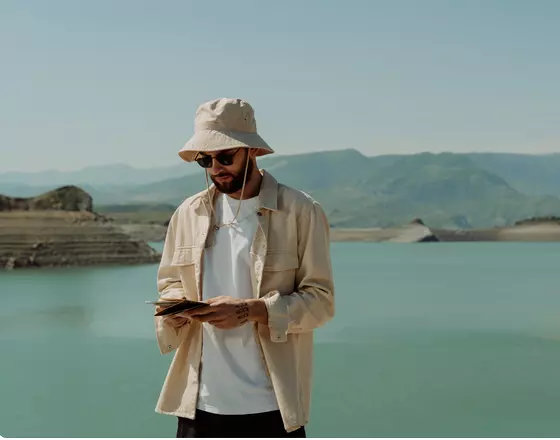 Shop Similar Styles on Amazon:
PJ Paul Jones Men's Slim Fit Lightweight Linen Jacket Tailored Blazer
JMIERR Men's Linen Shirts Casual Long Sleeve Button-Down
Bottoms
Resort casual calls for a departure from traditional work jeans and trousers. When it comes to bottoms, comfort and versatility is key. Pack a combination of tailored chinos, linen pants, and Bermuda shorts to suit various activities.
Chinos and linen pants in neutral tones like beige or light gray can be paired with both casual and dressier shirts, allowing you to effortlessly transition from day to night. Bermuda shorts in modest lengths offer a stylish and comfortable option for warmer days.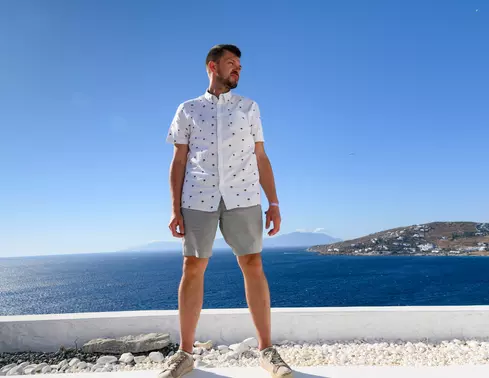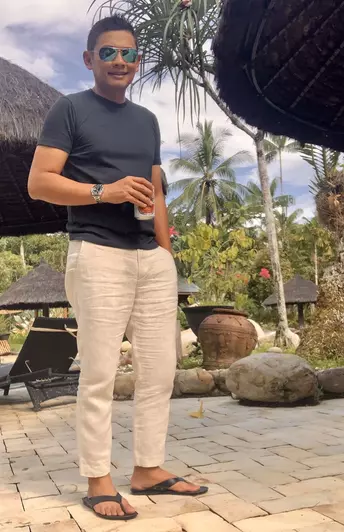 Shop Similar Styles on Amazon:
Amazon Essentials Men's Classic-Fit 9″ Short
Cubavera Men's Linen-Blend Pants with Drawstring
Footwear
Footwear plays a crucial role in completing your resort casual look. Opt for comfortable yet stylish options such as leather loafers, boat shoes, or suede driving moccasins. These choices provide a sophisticated touch without compromising on comfort. For more relaxed settings, consider a pair of sandals or tennis shoes that'll compliment your outfit.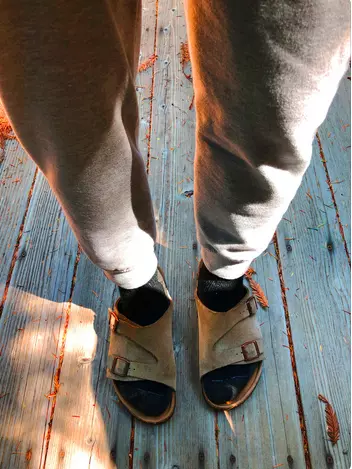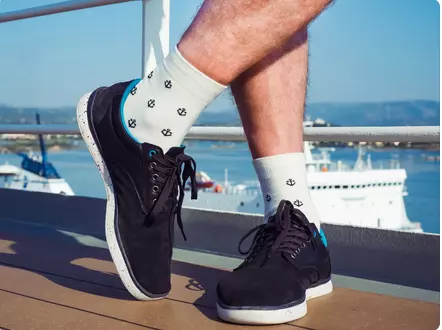 Shop Similar Styles on Amazon:
Birkenstock Original Zürich Diverse Materialien
Dockers Men's Beacon Boat Shoe
Swimwear
Most resorts are along the beach or include pools or hot tubs on the premises. You'll most likely be getting in the water or laying out by a pool at some point so don't forget to pack the swimwear. A simple, stylish pair of swim trunks is all you need or a pair of Speedo's if you're into more revealing styles.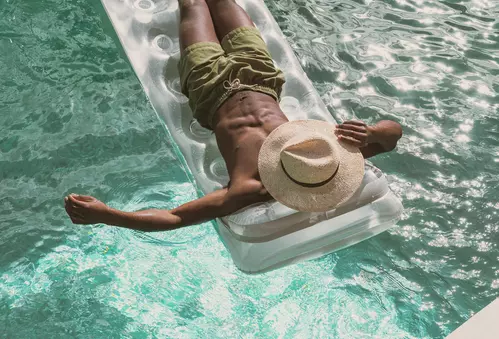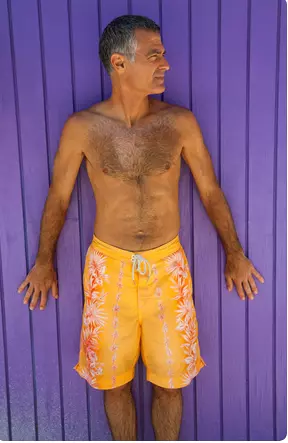 Shop Similar Styles on Amazon:
maamgic Mens Boys Short 80s 90s Vintage Swim Trunks
Mens Swim Trunks Quick Dry Board Shorts with Mesh Lining
Accessories
When it comes to accessorizing men's resort casual attire, there really isn't much to bring besides the essentials. Start with a pair of stylish sunglasses with classic designs like aviators or wayfarers with UV protection lenses. Bring a lightweight hat, such as a straw fedora or a wide-brimmed Panama hat, to shield your face from the sun and add a touch of tropical flair. A watch is another essential accessory that can add a bit of bling and polish a simple outfit up a bit without looking like you're trying too hard.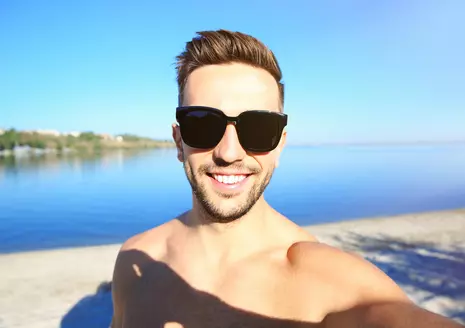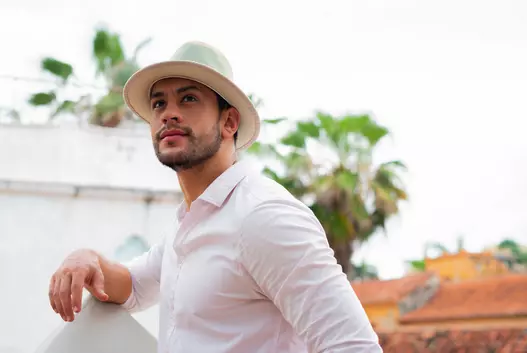 Shop Similar Styles on Amazon:
Ray-Ban RB2140 Original Wayfarer Sunglasses
Related: Hoochie Daddy Shorts: Show Off Of Those Buns And Thighs
Top 10 Most Stunning Resort Locations
Now that you have your resort casual attire wardrobe down, the next step is to plan the resort getaway of your dreams, either with a partner or a solo trip. There are numerous exceptional resort destinations around the world, each offering unique experiences and attractions. While it's challenging to narrow it down to just ten, here are ten renowned resort locations that are highly regarded:
Maldives: Known for its exquisite overwater bungalows and stunning coral reefs, the Maldives offers a paradise-like setting for relaxation and luxury.


Bora Bora, French Polynesia: This picturesque island in the South Pacific is famed for its turquoise lagoons, vibrant marine life, and lavish resorts.


Maui, Hawaii, USA: With its breathtaking beaches, lush landscapes, and world-class resorts, Maui is a popular choice for travelers seeking a mix of relaxation and adventure.


Bali, Indonesia: Bali captivates visitors with its rich cultural heritage, beautiful temples, lush rice terraces, and luxurious beach resorts.


Seychelles: This Indian Ocean archipelago boasts pristine white-sand beaches, crystal-clear waters, and exclusive resorts, making it a dream destination for honeymooners and beach lovers.


Amalfi Coast, Italy: The Amalfi Coast enchants with its cliffside villages, dramatic coastline, and luxurious resorts that offer panoramic views of the sparkling Mediterranean Sea.


St. Barts, Caribbean: Known for its glamorous vibe, pristine beaches, and upscale resorts, St. Barts is a favorite retreat for celebrities and discerning travelers.


Santorini, Greece: With its iconic whitewashed buildings perched on volcanic cliffs, breathtaking sunsets, and luxurious boutique hotels, Santorini is a romantic and picturesque destination.


Whistler, British Columbia, Canada: Renowned for its world-class skiing and snowboarding, Whistler is equally captivating during the summer months, with its stunning mountain scenery, hiking trails, and high-end resorts.


Queenstown, New Zealand: Nestled on the shores of Lake Wakatipu and surrounded by majestic mountains, Queenstown offers a plethora of outdoor activities, upscale accommodations, and breathtaking natural beauty.
Related: How To Stop Nipples Poking Through Shirt For Men
Wrap Up
Remember, the key is to strike a balance between relaxed and polished, allowing you to look effortlessly put-together in any resort casual attire setting. When packing for your resort vacation, consider the climate, activities planned, and the overall ambiance of the destination. This will help you curate a wardrobe that suits your needs and ensures you're prepared for any occasion. By taking some time in pre-planning your resort outfits, you can create an effortlessly cool aesthetic that's comfortable too.
Read More: