Wearing foundation for men is no longer seen as taboo. In fact, an increasing number of men are turning to foundation to help them up their game. If you have uneven skin pigmentation, acne scars, blemishes, or dark circles under your eyes, foundation can help create a more uniform look.
Wearing foundation can help if you have an event where you'll be taking pictures and want to look your best. Or maybe you don't mind putting a little bit more effort in your day-to-day look and want amazing looking skin whenever you're out. If you've never worn foundation before, the process can seem a bit daunting, and that's okay! All you need to know are a few basics before you go on to have photo-filter, face perfection.
Foundation For Men Coverage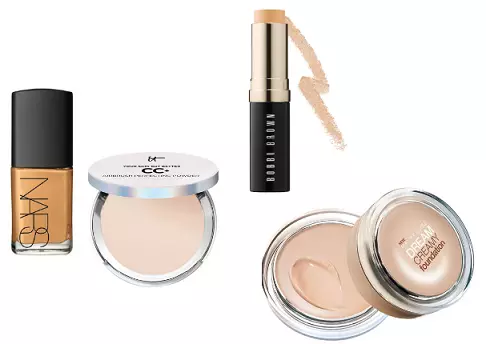 Foundation comes in a wide variety of formulas and shades, so it's important to take some time to find the one that's right for you. Do you want something that will give you full coverage? Or are you looking for something that's more light and natural-looking?
Keep in mind, there isn't much of a difference in wearing foundation made for women or ones that are specifically geared towards men. Women's products may be a bit more fragrant but for the most part, they both get the job done.
Full Coverage Foundation
If you have acne scars or other blemishes on your face, you may want to go with a full coverage foundation. Liquid and cream foundations give the most coverage and are long lasting. They are essentially like painting over your face with skin-colored paint.
Liquid and cream foundations are the least natural looking in appearance due to their heaviness and can give you a more made up look. So if you're trying to be more discreet about wearing make-up, you may want to go with a lighter option.
Liquid and cream foundations may not be best if you have oily skin or are prone to breakouts since they can clog your pores and don't allow your skin to breathe well.
Natural Coverage Foundation
If your skin is already pretty clear and you just want to perfect it a bit, a more natural, sheer coverage concealer is recommended. A mousse foundation is light and airy with still pretty good coverage. They can also work well with oily skin, giving the coverage you need without being greasy or clogging pores.
A powder foundation is the most natural option, ideal for those who want a foundation that's easy to apply and practically undetectable. There won't be much coverage over blemishes, but it can give your skin a smoother look and blend any uneven shades on your face.
Powder foundation is great for oily skin and can help soak up moisture from oil and sweat.
Foundation Shade
Once you've decided on the type of foundation you want, it's time to select the right shade. The basic premise is to match your skin tone as closely as possible. Foundation shades pretty much come in three sets: fair, medium, and dark.
Lighter skin tones should stay in the fair to neutral range while medium skin tones will have more of a beige to golden shade. Darker skin tones have the deepest pigments and will be more olive to brown.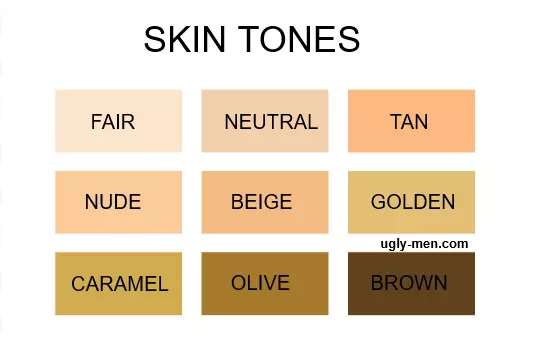 If you're not sure which foundation shade is right for you, you can go to any department store that sells makeup or a beauty store like Sephora and Ulta. They usually have free makeup consultants that will help color match the best foundation shade for you.
Most beauty aisles also have testers out where you can test the product (on your arm or paper) before buying it. There's also a huge beauty community online where YouTubers and influencers test beauty products, so you can do a bit of comparison to someone with a similar skin tone as you.
Tips For Applying Foundation For Men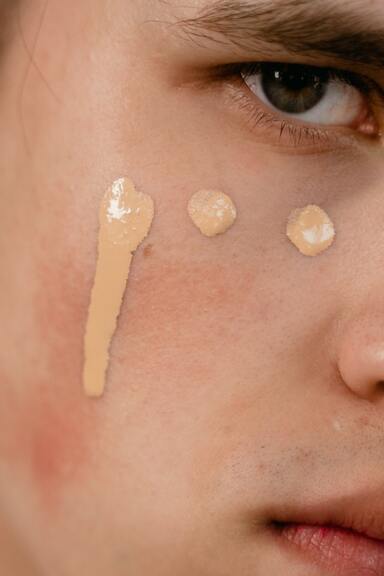 Once you've got your foundation picked out, it's time to get started. Here are some helpful tips to remember when applying foundation.
Start with a clean face. Make sure your face is freshly washed and moisturized before you start applying foundation. This will help the foundation go on more evenly and last longer throughout the day.
Apply the product with the applicator it comes with or with a foundation brush. They will give you better coverage and won't transfer oil or dirt onto your face from your hands.
Less is more. If you're using liquid or cream foundation, a few dots on your forehead, cheeks, and chin is all you need. You can be more liberal with mousse and powder foundations as they won't cake up if a generous amount is applied. Just make sure all of your face is covered, including your eyelids.
Be sure to blend well into your hairline and jawline so there's no visible line of demarcation. You can wipe away any excess foundation in your hair when you are finished. Add a bit of foundation under your jawline and top of your neck. You don't want your face and neck's shade to differ too much or it'll give you a mask-like appearance.
If you need more coverage in a specific area or want to do spot treatment, use a concealer after you apply your foundation. Use a blending brush to help match the two products into the same shade.
Set your foundation. To help your foundation stay in place all day long, finish off with a loose powder or setting spray once you're done applying. This will also help reduce shine and keep your makeup looking fresh from morning 'til night.
Recommended Products
Formen's CC cream comprises of a professional formulation that acts as six different products mulled into one. It's the jack of all trades making it the perfect product for those who want one product that can do most. Comes out white like a normal moisturizer, changes color as you rub it into skin.
Protect: With an SPF of 20 block harmful rays from the sun.
Moisturize: Velvety smooth, this creamy moisturizer keeps skin hydrated.
Prime: Improves coverage and extends length of wear time.
Even Skin Tone: Repairs the look of uneven, red, or blotchy skin.
Brighten: Brightens the skin to appear fresh and powerful.
Mattify: Assists in reducing facial shine.
Dermablend's Smooth Liquid Camo foundation is a high quality, medium coverage foundation. It is hydrating and has SPF 25, giving great protection from the sun. It's perfect for combination, oily, and normal skin.
Applies smoothly with a natural finish.
Dermatologist-tested. Fragrance-free. Allergy-tested. Non-comedogenic.
Fragrance and phthalate free with vegan formula.
Camo affect that hide wrinkles and blemishes.

This NYX Professional Makeup pressed powder foundation offers lightweight, buildable coverage that evens skin tone, covering imperfections and leaving behind a smooth matte finish. Great for oily to medium skin types, the Stay Matte But Not Flat powder foundation will keep your face from being shiny while having a natural feel and appearance.
Natural and lightweight with light to medium coverage.
Easy to apply powder, can be used dry or wet for fuller coverage.
Matte finish minimizing oily and shiny skin.
Cruelty Free Cosmetics: All NYX products aren't test on animals and are acknowledged by PETA as a cruelty free brand.
How to Use Minoxidil for Beard Growth
Wrap Up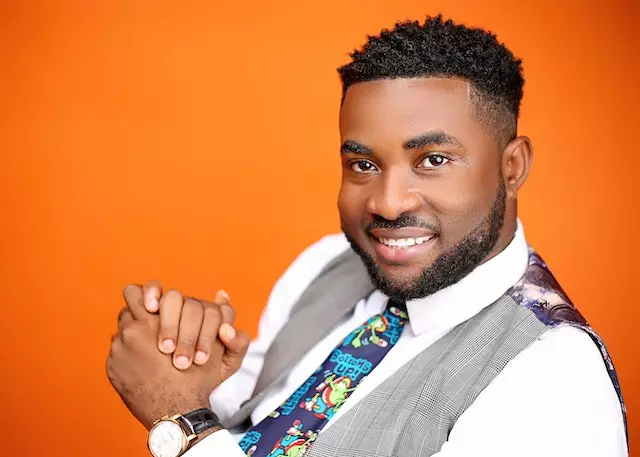 If you're a guy and have never worn makeup before, you might find it a little intimidating or even uncomfortable. There's always been the general stereotype that makeup is only for women and only gay men wear makeup. And while the general population, especially older folks, may have that belief– the younger generations, especially gen-z, have no problem with men wearing foundation or makeup.
The work and dating market is at an all time high for competitiveness. A little foundation may be all you need to help you look more polished and stand out. Besides, if something makes you more attractive and feel more confident– well, it doesn't really matter what the naysayers say, does it?
How To Wear A Flannel With A Hoodie