See the different styles and learn how to wear a flannel over a hoodie. It's finally starting to get cold out, which means it's time to break out the cozy layers. One of top, trendiest cold weather looks is a flannel over a hoodie.
It's comfortable, it's stylish, and it'll keep you warm all day long. But if you're not careful, this look can quickly go from stylish to sloppy. See how to wear a flannel with a hoodie without looking like a sloppy lumberjack.
Read More: The Caesar Haircut Is Back And Hotter Than Ever
How To Wear A Flannel Over A Hoodie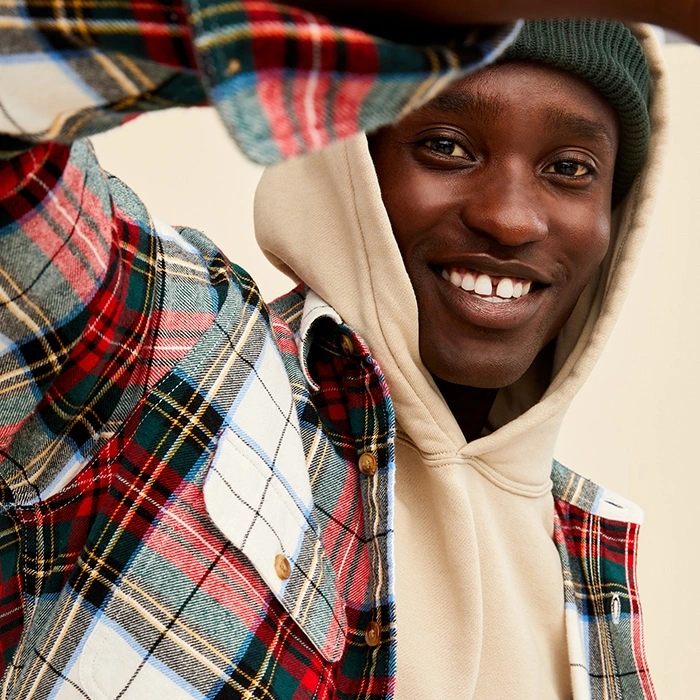 Choose the Right Hoodie
The hoodie is the key factor in putting together the flannel over a hoodie look. If you want to achieve a more stylish look over someone who is just trying to wear layers to stay warm, avoid hoodies that are overly baggy or shapeless.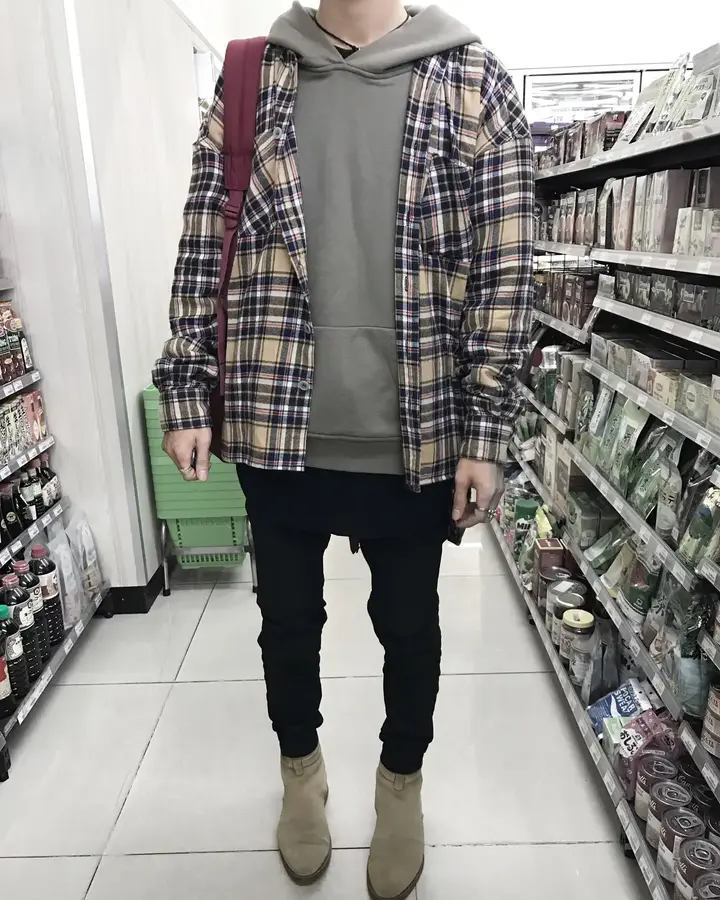 Instead, go with a fitted hoodie in a solid color. This will help create a streamlined silhouette and prevent your overall look from appearing too bulky or sloppy. Solid neutral colors like white, black, gray, and beige hoodies work the best so they won't clash with the color and design of the flannel.
Shop Related Products:
Legendary Whitetails Men's Buck Camp Flannel Shirt
Pick the Right Flannel
The next step on deciding how to wear a flannel over a hoodie is choosing a flannel shirt, you'll want to make sure it fits well over the hoodie. It should be half a size to one size larger than when you'd normally wear a hoodie over a T-shirt or as a button down.
The flannel over the hoodie should have a snug fit, but not too tight where there's bunching on the arms. The sleeves of the flannel should be just a bit longer than the hoodie sleeves.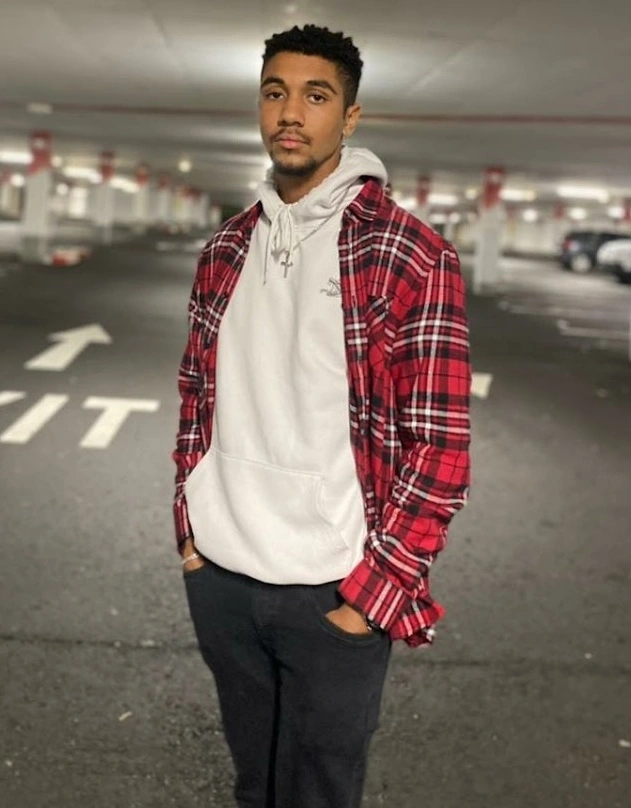 Choose a flannel that complements your hoodie. If your hoodie is solid-colored, go for a patterned flannel. A simple plaid or gingham print will add just the right amount of visual interest to your look. If your hoodie is a neutral, solid color, flannels of any color; red, blue, green, yellow, should compliment the hoodie well. If you're wearing a more colorful hoodie or one with a graphic design on it, a flannel that has a somewhat similar color scheme would work best.
Shop Related Products:
Ashford & Brooks Mens Flannel Button Down
Slim Fit Jeans or Khakis
Most would consider the flannel over a hoodie look casual attire. Pairing the look with slimmer fit jeans or khakis can help you look a bit more trendy and polished. Wearing baggier pants might make you look too comfortable and bummy– or as if you just got off working construction.

If skinny jeans are your thing, they can compliment the flannel with a hoodie look very well. It may give off more of an edgier, alternative style– especially if the jeans are torn and distressed. If you're not into skinny jeans, a simple boot cut jean or fitted khakis can help dress up the look. You'd have no issues wearing this at any occasion.
Shop Related Products:
Eddie Bauer Bristol Men's Flannel Shirt
Flannel and Hoodie With Shorts
The flannel over hoodie look also is a good outfit on the cooler days of the spring and summer months. On the days that are too cold to wear a T-shirt but not cold enough to wear a sweater, a flannel and a hoodie will keep you warm without overheating– all while looking stylish. Bust out your favorite jorts, khakis, or even hoochie daddy shorts to compliment the look.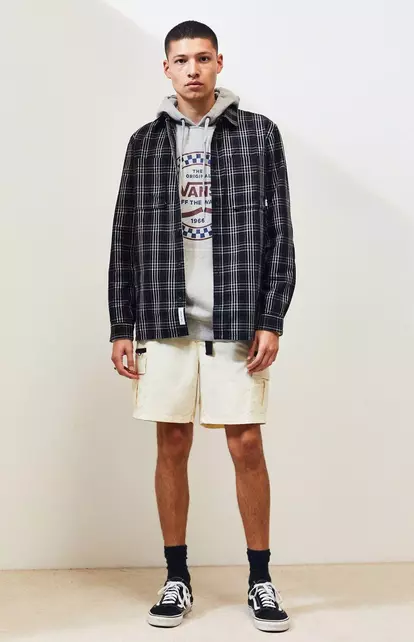 Leave The Hood Untucked
Be sure to pull the hood from the hoodie from underneath so it hangs over the flannel. It may feel a bit weird at first to have the under clothes be on top of the outer clothes, but it completes the look and you're able to still use the hood in cold weather.
Make sure the collar and strings of the hoodie are loosely on top of the collar of the flannel so you don't look too bundled up. The key thing to remember when wearing a flannel over a hoodie is that it should be more of an effortless, cool aesthetic.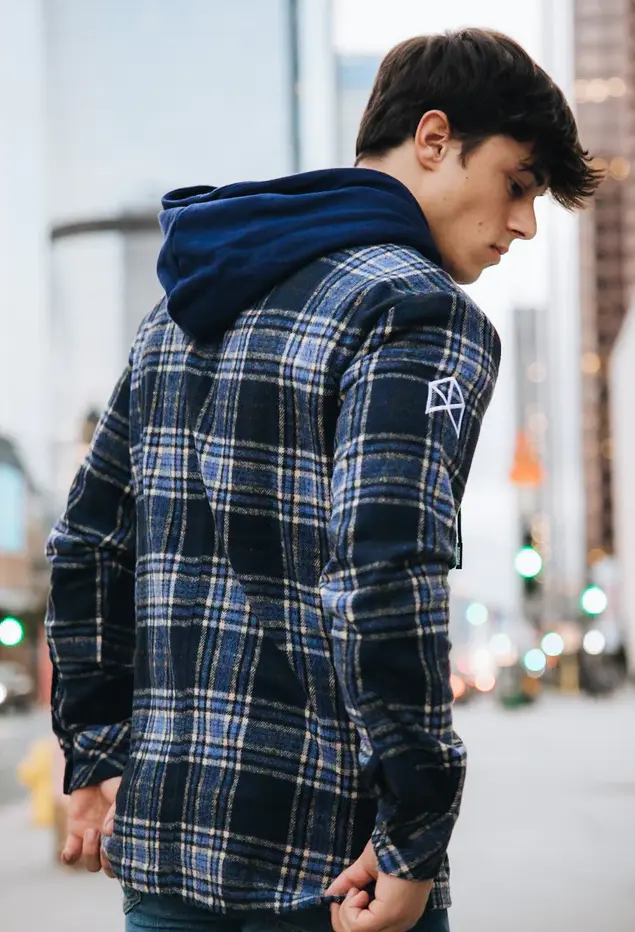 Shop Related Products:
Hanes Men's EcoSmart Fleece Hoodie
Related: How to Use Minoxidil for Beard Growth
Shoes To Wear With a Flannel and Hoodie
The great thing about the flannel over a hoodie look as it's pretty versatile when it comes to what footwear works the best. You can easily change up how to wear a flannel with a hoodie simply by what type of shoe you wear. For a more casual, sporty look, you can't go wrong with a pair of white or black sneakers.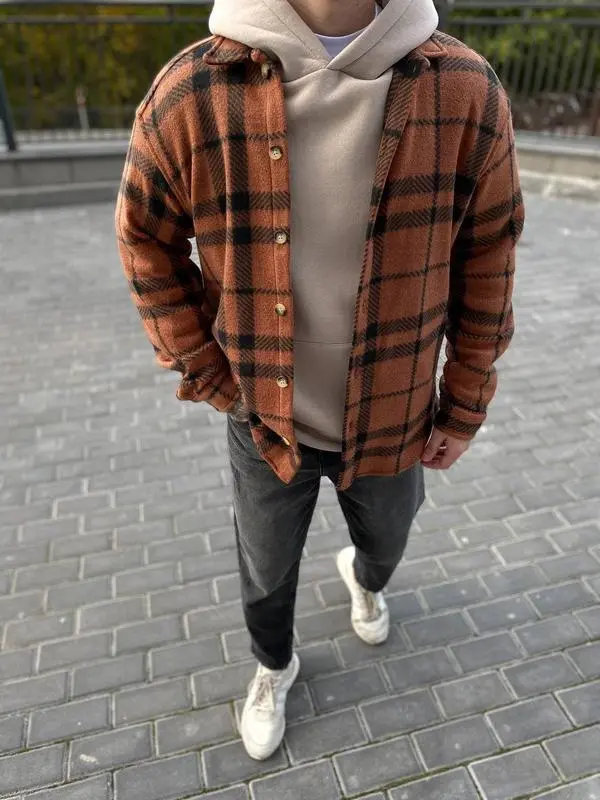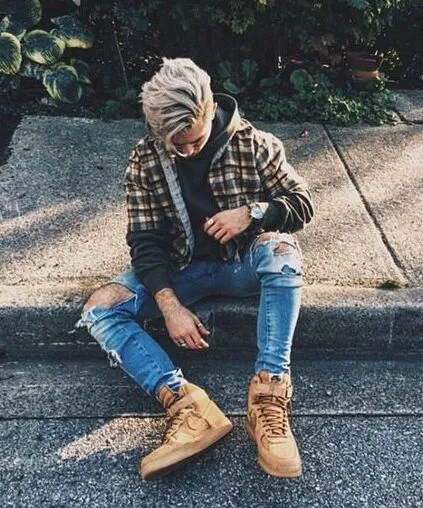 You may be able to pull off dress shoes or loafers, but stay away from anything too dressy or glossy. A suede slipper or moccasin could also help bring the look together and is extremely comfortable as well.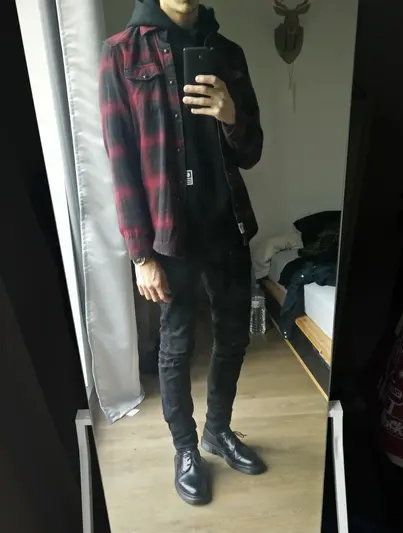 If you're going for a more rugged look, boots can be a great option. Choose a pair of work boots or hiking boots for a utilitarian look, or opt for something more refined like Chelsea boots.
Shop Related Products:
Dickies Men's Flex Long Sleeve Flannel Shirt
Related: Can Men Wear Ugg Boots?
Accessories For a Flannel Over a Hoodie Outfit
Since the flannel and hoodie look is more casual, it's best to go light on the accessories. Too much jewelry or styling with a low key outfit like this might make it seem like you're trying a bit too hard to dress up a lower maintenance look.
You can still accessorize to add your own style when it comes to how to wear a flannel with a hoodie– just keep it simple. If you're into hats, a plain beanie or baseball cap can work well with this style.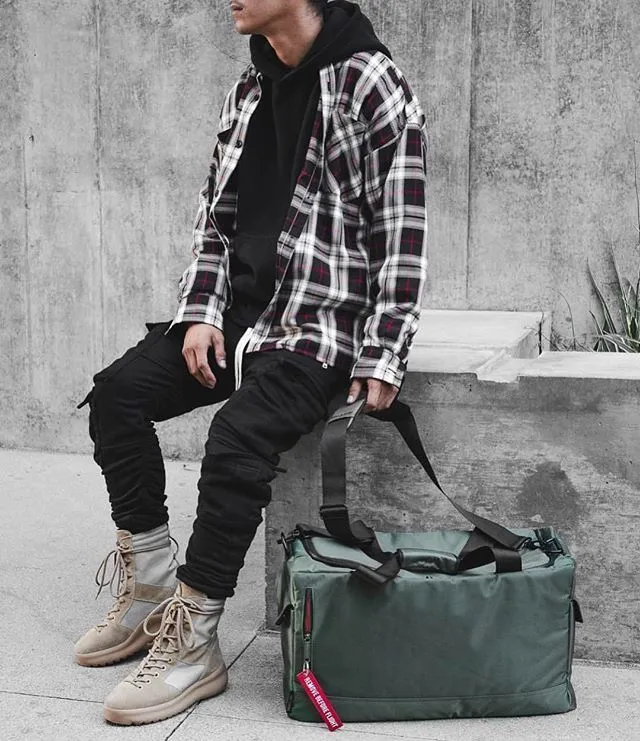 A messenger bag or backpack is not only convenient but can add a bit of style to a casual, chill look. Besides that, only the basics are recommended if you're looking to accessorize the flannel with a hoodie look.
Sunglasses, a watch, and a small chain, ring, or bracelet are all that's needed to gloss up your comfy, casual vibe.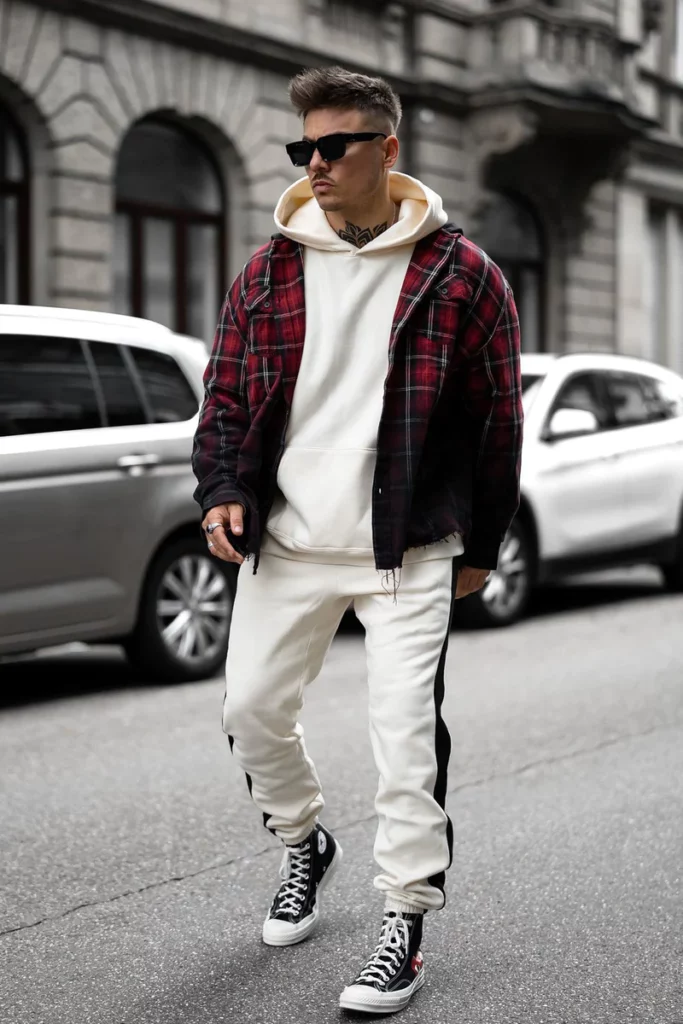 ZAFUL Men's Classic Flannel Shirt
Carhartt Men's Rain Defender® Loose Fit Sweatshirt
Read More: