Gone are the days when high-waisted pants for men were solely associated with a nerdy or grandpa look. Today, men's high-waisted pants have emerged as a contemporary statement, offering a refined and sophisticated look that exudes confidence and style.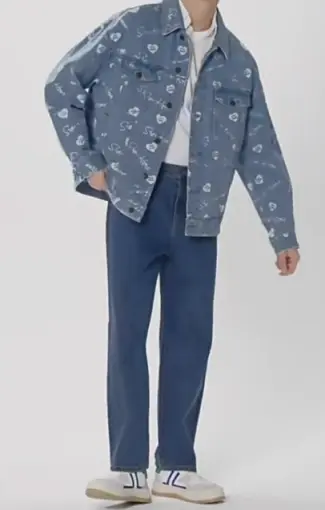 With their flattering fit and versatility, it's no wonder that high-waisted pants for men have made a triumphant comeback in the fashion world. We'll explore the trend, offering insights on how to wear them effortlessly, pairing them with the right shirts, shoes, jackets, and accessories.
Are High-Waisted Pants For Men in Style?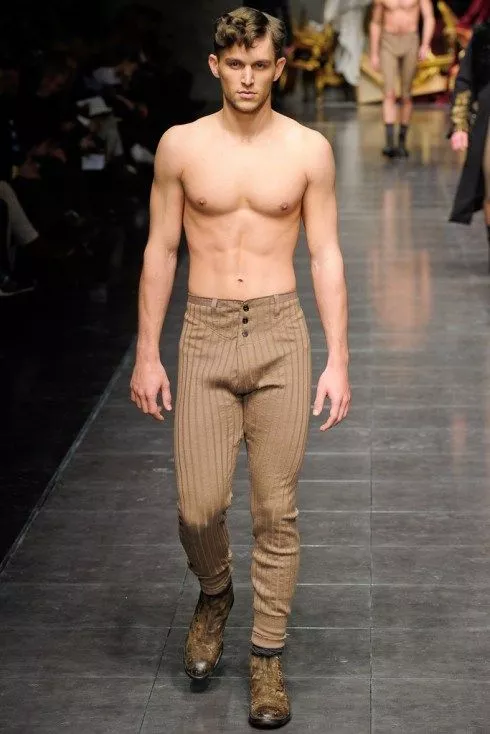 Absolutely! The fashion landscape is continually evolving, and high-waisted pants for men have firmly established themselves as a fashionable choice. Celebrities and fashion-forward influencers have embraced this trend, flaunting high-waisted pants on red carpets and social media.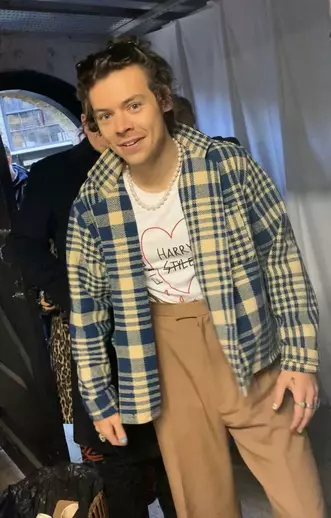 Whether you opt for tailored trousers or denim, high-waisted pants effortlessly elevate any outfit. The key lies in finding the right fit and pairing them with complementary garments to achieve a modern and sophisticated look.
How to Wear Men's High-Waisted Pants
Embrace Proportions
When wearing high-waisted pants, it's crucial to consider proportions. Choose a shirt that is slightly shorter or can be tucked in neatly to highlight the waistline and create a balanced silhouette. You don't want your waistline too high, cutting off your upper body, nor for it to sit too low, shortening the length of your legs.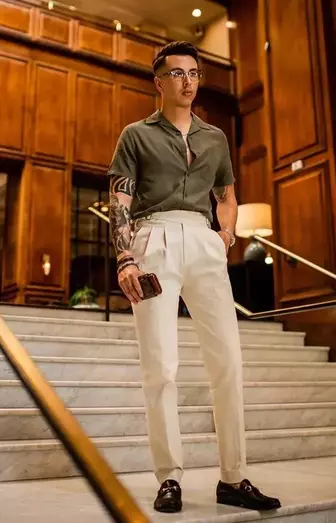 Tailoring is Key
Proper fit is paramount when it comes to high-waisted pants. Avoid overly tight or too baggy options and opt for a tailored fit that flatters your body shape. The pants should sit comfortably at your natural waistline and fall smoothly down the legs, creating a sleek and streamlined appearance. There are several different styles you can play with like wide-fit pants and high-rise ankle pants.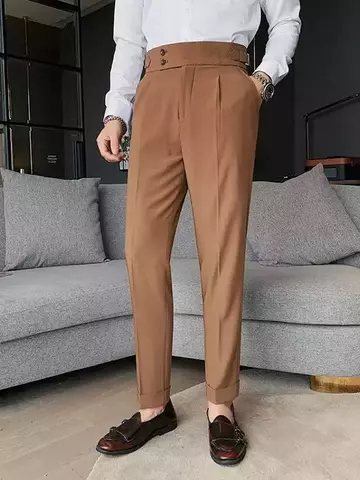 Accessorize Thoughtfully
Complete your high-waisted pants ensemble with carefully selected accessories. Consider belts to accentuate the waist or add a touch of personality with a stylish watch, cuff-links, or suspenders. Remember, less is often more, so choose accessories that complement rather than overpower the overall look.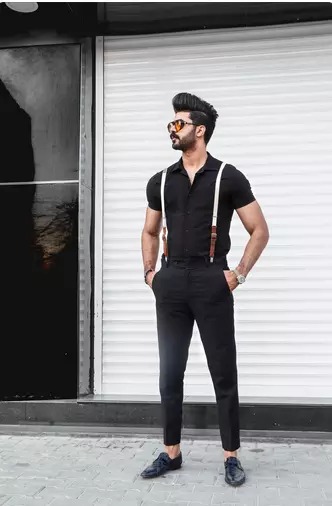 What Shirt to Wear with High-Waisted Pants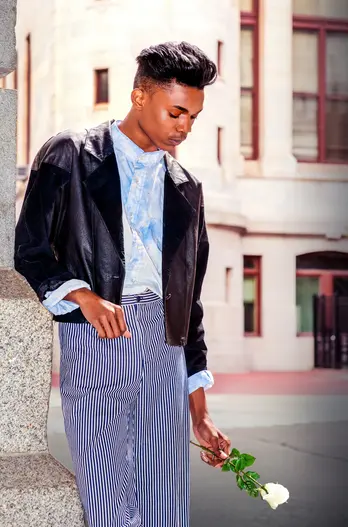 The choice of top plays a crucial role in perfecting the high-waisted pants outfit. Depending on the occasion and personal style, several options work well.
For a more formal, dressed-up look, pair high-waisted trousers with a tailored, button-down shirt.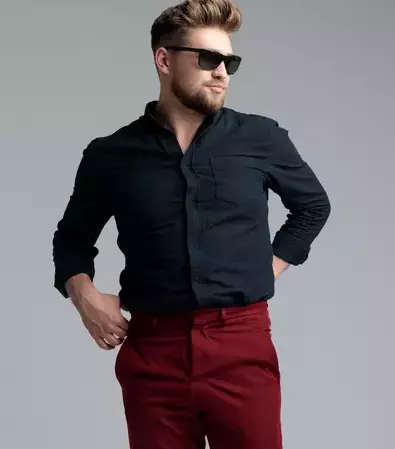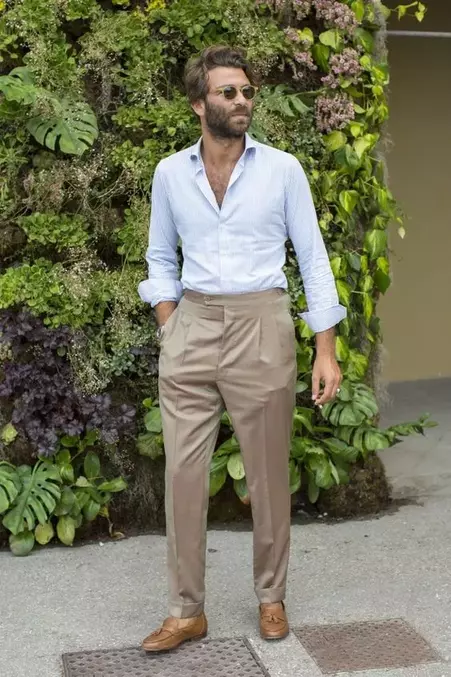 For a casual yet sophisticated vibe, opt for a well-fitted polo shirt, sweater, or T-shirt. Experiment with different patterns, textures, and colors to add personality to your ensemble.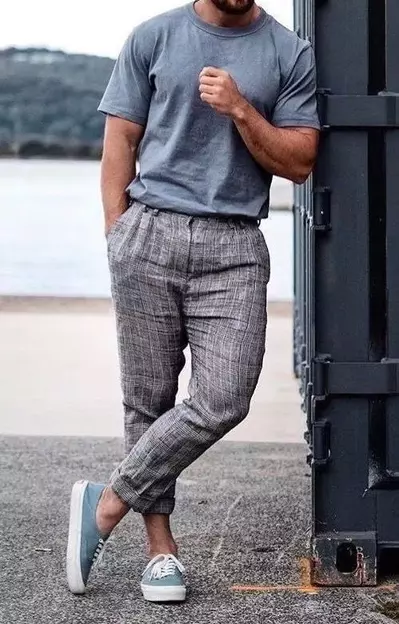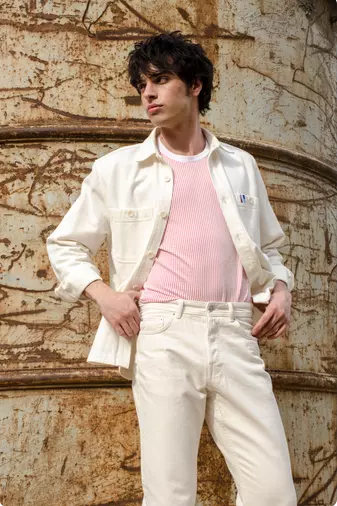 What Shoes to Wear with High-Waisted Pants
Finding the right shoes can make or break a high-waisted pants outfit. Consider the occasion and the overall aesthetic you're aiming for. For formal or business attire, opt for classic dress shoes like oxfords or loafers.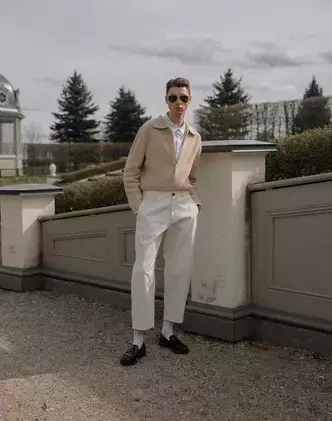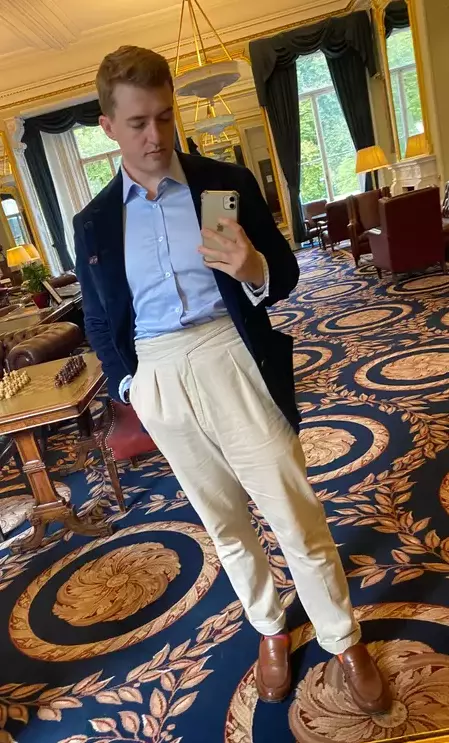 For a more relaxed look, try pairing high-waisted pants with clean white sneakers, Chucks, or boots. It may seem a bit odd at first to wear sneakers with trousers, but as long as your pair it with a nice top, accessories, and a clean aesthetic– you can make the casual-formal look super stylish.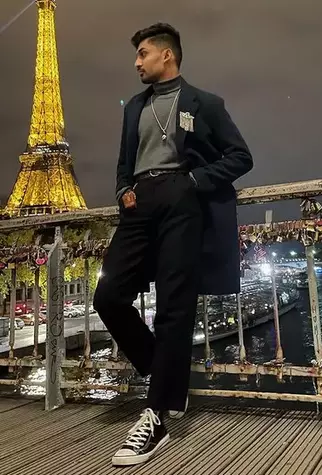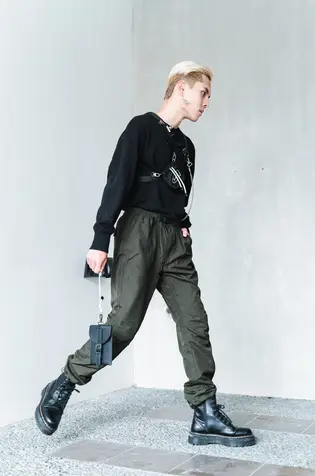 What Jacket to Wear with High-Waisted Pants
A well-chosen jacket can change the whole vibe of your outfit. You can pair your high-waisted pants with a leather jacket for a touch of ruggedness to a casual outfit or a bomber jacket, which will give off more of a sporty and contemporary aesthetic.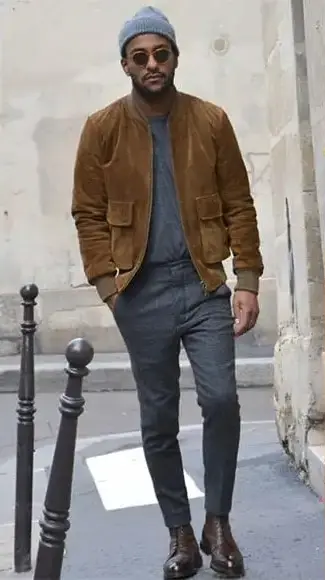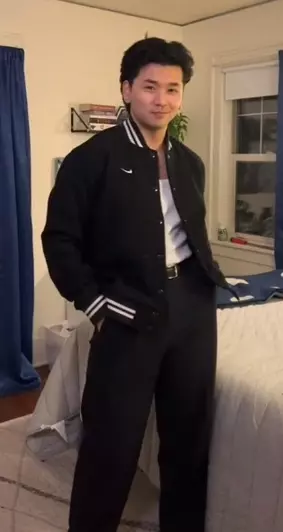 For a formal or professional setting, opt for a tailored blazer that complements the color and style of your pants. A leather jacket adds a touch of ruggedness to a casual outfit, while a bomber jacket creates a sporty and contemporary aesthetic. Remember to consider the occasion, weather, and personal style when selecting the right jacket.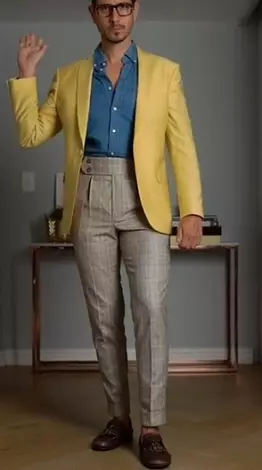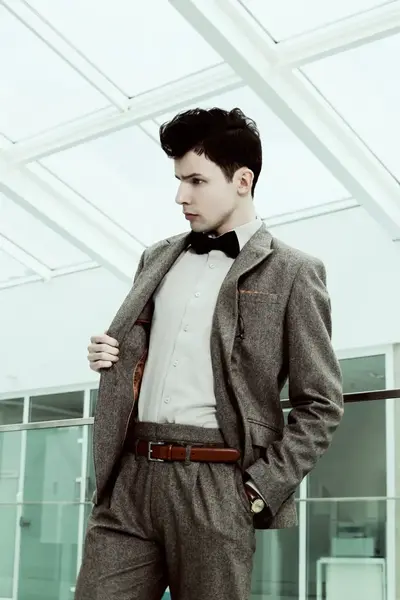 Related: How To Wear A Flannel Over A Hoodie
Best High-Waisted Pants for Men
These high-waisted pants for men from Levi's sit higher up on your waist and are designed with a roomier thigh and a tapered leg for a modern fit. The higher rise adds a stylish touch while providing comfort and versatility. Crafted from durable denim, these pants are perfect for both casual and semi-formal occasions.
These high-waisted chinos by Goodthreads offer a blend of classic style and contemporary fit. Made from a comfortable cotton fabric with a hint of stretch, they provide a slim yet relaxed silhouette. The versatile design allows you to dress them up or down effortlessly, making them a wardrobe staple.
Dockers is renowned for its quality khaki pants, and this high-waisted option is no exception. With a classic fit and a slightly higher rise, these pants deliver both style and comfort. The wrinkle-resistant fabric and versatile color choices make them suitable for a range of occasions, from casual outings to business-casual settings.
For those seeking high-waisted pants that combine durability and flexibility, these canvas pants from Carhartt are an excellent choice. Made with a rugged yet stretchable fabric, they offer superior comfort and mobility. The relaxed fit and multiple utility pockets add functionality to the stylish design.
These straight-fit khaki pants from Amazon Essentials offer a timeless and comfortable option for high-waisted pants. Made from a blend of cotton and elastane, they provide a hint of stretch for ease of movement. The straight-leg design and versatile color range make them suitable for both casual and semi-formal occasions.
The Wrangler Authentic Classic Relaxed Fit High Rise Pants for men are a versatile and comfortable choice for everyday wear. Made with a blend of cotton and polyester, these pants offer durability and flexibility. The relaxed fit and high-rise design provide a modern and stylish look, while the multiple pockets offer convenient storage options.
The Perry Ellis Fit Linen Pants for men offer a comfortable and stylish option for warm-weather occasions. Made with a breathable linen fabric, these pants provide a lightweight and relaxed feel. The standard fit and high-rise waist create a modern and flattering silhouette, while the bright color adds a vibrant touch to any outfit. Perfect for casual or semi-formal events, these pants are a versatile addition to your summer wardrobe.
Read More: