As the cold weather season sets in, it's time to amp up your fashion game with some killer layers. And there's one accessory that stands out as the quintessential fall and winter addition to your wardrobe – men's scarves. These aren't just winter-warming companions, they're your style sidekicks, ready to effortlessly make you look cool while also keeping you warm.
With a range of styles, materials, and knotting techniques, there's a scarf for every occasion. In this guide to men's scarves, we'll break down the different styles of men's scarves and drop some priceless tips on how to rock scarves with panache for any occasion. Plus, we've scoured the fashion landscape to present you with our top picks, showcasing the most popular scarves that trend-setting men are flaunting right now. So let's dig in!
Different Scarf Styles for Men
Whether you're aiming for timeless elegance, rugged comfort, or a hint of cultural flair, there's a scarf style for every man and every occasion. From the classic wool scarf to the intricately patterned keffiyeh, each style carries its own unique charm and purpose.
The Classic Wool Scarf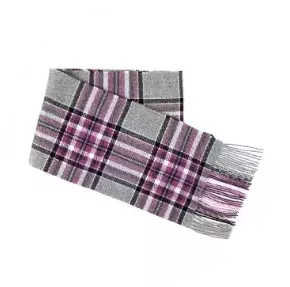 The classic wool scarf is a timeless cornerstone of every stylish man's winter wardrobe. Crafted from the finest wool, these scarves offer warmth and exude a sense of refinement and sophistication. Whether you opt for solid colors, classic patterns like houndstooth or plaid, or explore textured weaves, a wool scarf effortlessly marries comfort with style. It's the kind of accessory that can elevate a simple overcoat or add a touch of class to your everyday attire.
The Chunky Knit Scarf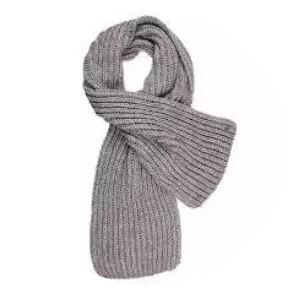 For a more relaxed and casual look when wearing men's scarves, opt for a chunky knit scarf. These scarves are often wider and thicker, creating a cozy cocoon of comfort on colder days. The chunky knit scarf pairs wonderfully with rugged leather jackets, jeans, and sturdy boots, giving you that rugged outdoorsy look while also keeping your body warm.
The Silk Scarf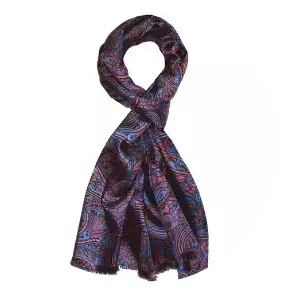 Silk men's scarves are perfect for those transitional seasons when you want to add a touch of luxury to your ensemble. Crafted from high quality, soft fabrics, these scarves come to life with a plethora of prints and patterns, each adding a pop of color and a touch of sophistication to any outfit. These scarves are more than accessories, they are statements of style and class, allowing you to subtly express your personality with flair.
The Infinity Scarf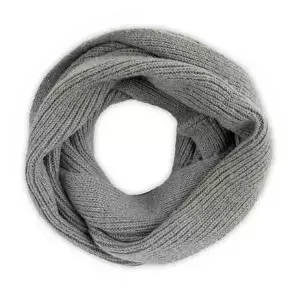 Infinity scarves create a continuous loop that wraps effortlessly around your neck, offering warmth and fashion without any bothersome loose ends. Whether you're running errands or meeting friends for a casual brunch, the infinity scarf is the epitome of hassle-free fashion. Its snug fit complements various outfits, making it a versatile choice for both urban explorers and style-conscious individuals seeking
The Cashmere Scarf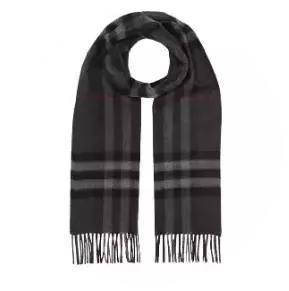 When luxury and comfort are non-negotiable, the cashmere scarf steps in as a fashion go-to. Made from soft cashmere wool, these scarves are renowned for their unparalleled softness and lightweight warmth. While they may come with a higher price tag, the investment is well justified. A cashmere scarf isn't merely an accessory, it's an experience.
The Neck Gaiter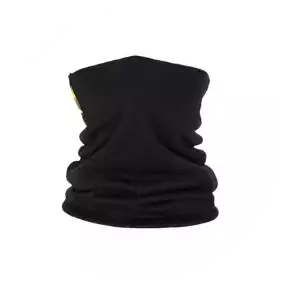 A neck gaiter, also commonly called a snood, is an alternative style from traditional men's scarves. Its unique design allows you to adapt it to various situations. Wear it as a snug neck warmer to combat the chill, pull it up to shield your face from biting winds, or transform it into a headband or beanie for a touch of rugged coolness. Whether you're hitting the slopes or strolling through the city, this scarf alternative offers warmth, protection, and style.
The Alpaca Scarf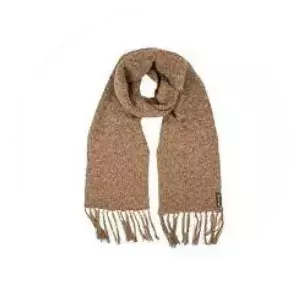 Alpaca scarves offer a unique blend of warmth, softness, and durability. These scarves are made from the luxurious fibers of the alpaca animal and are known for their exceptional insulation properties. Alpaca scarves often come in earthy tones, making them perfect for both formal and casual occasions. These scarves provide a cozy cocoon of warmth, making them an ideal choice for those frosty winter days when you need to stay toasty without compromising on style.
The Linen Scarf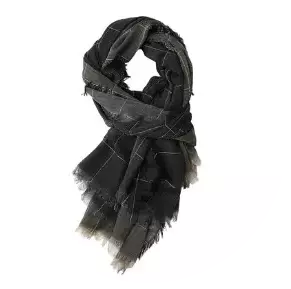 Linen scarves are ideal for the warmer months. They're lightweight and breathable, making them a comfortable choice for spring and fall. Linen scarves often feature lighter colors and understated patterns, adding a touch of freshness and elegance to your attire. Whether you're attending a garden party, strolling along the beach, or simply looking to add a dash of refinement to your summer ensemble, linen men's scarves are the perfect choice to add a bit of style without overheating.
The Keffiyeh Scarf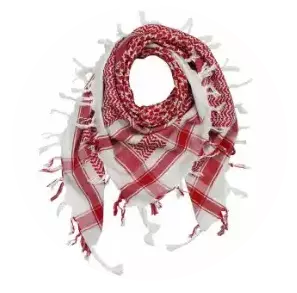 Originating from the Middle East, keffiyeh men's scarves are characterized by their distinctive checkered pattern, often in black and white or red and white. While traditionally worn for practical reasons like protection from the sun and sand, they have become a globally recognized fashion statement. Whether you choose to drape it casually or incorporate it into a more formal ensemble, the keffiyeh scarf adds an intriguing and cultural dimension to your style.
The Tartan Scarf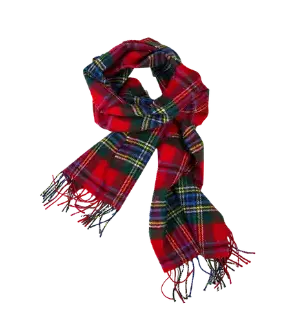 Tartan scarves pay homage to traditional Scottish heritage, featuring distinctive plaid patterns that vary in color and design. These scarves evoke a rugged, timelessness while adding a dash of sophistication to your winter wardrobe. Whether you have Scottish roots or simply appreciate the classic aesthetic, tartan men's scarves are an excellent choice as a versatile winter accessory.
Best Men's Scarves – Top 10 Picks
As winter approaches, a high-quality scarf becomes a crucial part of your cold-weather arsenal. Not only does it keep you warm, but it also elevates your style. Here are some top picks for men's winter scarves:
The Lacoste Men's Classic Ribbed Scarf is a stylish and timeless accessory. Crafted from high-quality materials, it features a classic ribbed design that not only adds texture but also ensures warmth and comfort during cold weather.
This designer scarf features the iconic Tommy Hilfiger colors and branding that adds a sporty and stylish touch to your cold-weather attire. Crafted from high-quality materials, it promises both warmth and durability during the winter months.
Using an argyle pattern and acrylic fibers, this lightweight knit scarf provides lasting warmth and protection from the wind. It's versatile style is suitable for casual and formal styles and is a soft and durable winter scarf.
Elegance and warmth meet in this iconic Burberry scarf. Made from 100% cashmere, it features the classic Burberry check pattern in muted tones. A timeless investment piece that will last you many years.
This luxurious winter scarf is crafted from premium imported Italian cashmere and features a timeless design, adding to any man's wardrobe. The waterfall finish design is expertly crafted with high-end detailing, a beautiful print, and a hand-twisted fringe.
Made from high-quality lambswool, this men's scarf offers exceptional comfort and insulation against the cold. The traditional tartan pattern adds a touch of Scottish heritage and sophistication to your attire, making it a bold addition with a pop of color.
Embrace a touch of whimsy with Ralph Lauren's Polo Bear Scarf. Featuring the iconic Polo Bear motif, this scarf exudes timeless Ralph Lauren style. Made from soft wool knit and fleece lining, it provides warmth while ensuring a gentle feel against the skin.
This tactical keffiyeh scarf is a rugged and stylish accessory designed for outdoor enthusiasts and adventurers. It's made from high-quality cotton in a traditional keffiyeh design giving it a cultural flare, while it helps protect against sun, wind, and dust.
Made from premium alpaca wool, this popular men's scarf offers incredible softness and warmth while being lightweight and breathable. It's double-sided and reversible allowing you to switch up your style effortlessly and create different looks.
The Dalle Piane family brand has a longstanding reputation for producing high-quality, Italian textiles, and their mastery is evident in this scarf. Made from the finest, premium cashmere, this men's scarf is not only amazingly soft and warm, but has a stylish, modern 3 color block style in several colors to stand out with any outfit.
Ways to Tie Men's Scarves
Now that you've got your hands on some fantastic scarves, let's look into the different ways to tie a scarf.
The Loose Drape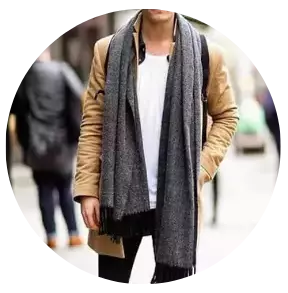 For a casual and relaxed look, simply drape the scarf around your neck without any knots. Let the ends hang loose, and adjust for comfort. This style works well with chunky knit scarves and complements an open coat or jacket.
The Parisian Knot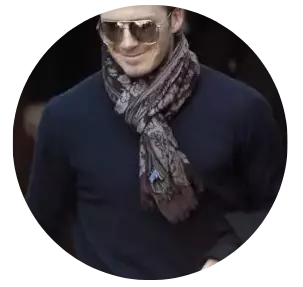 Fold the scarf in half lengthwise, drape it around your neck, and pull the loose ends through the loop created by the fold. Adjust the tightness to your liking. This knot works well with both dressy and casual outfits.
The Once-Around Knot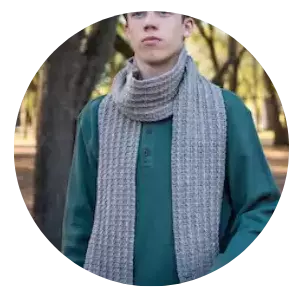 Wrap the scarf around your neck once, leaving one end shorter than the other. Take the longer end and wrap it around your neck again. This knot is simple and practical, perfect for keeping warm.
The Ascot Knot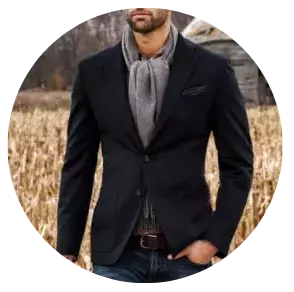 Drape the scarf around your neck with one end longer than the other. Cross the longer end over the shorter one, then bring it behind and up through the loop created so the knot sits in front of your neck. Adjust for comfort and style.
Over The Shoulder Drape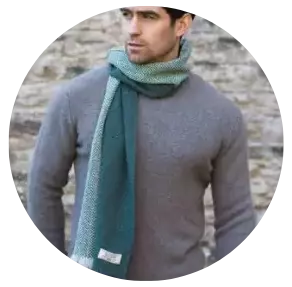 Simply lay the tie around your neck and loosely toss one end over the opposite shoulder. An effortless way to keep your neck warm and add a bit of flare to your outfit.
Related: Rock The Best Men's Crossbody Bags: Practical Style
How To Wear Men's Scarves
Now that you know how to wear a scarf, let's explore some outfit ideas to inspire your next look.
The Classic Overcoat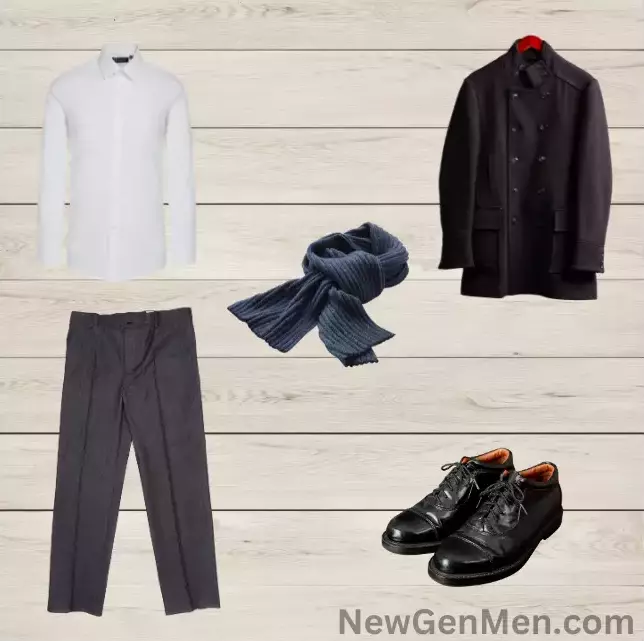 Pair a classic wool scarf with an overcoat, dress shirt, and trousers for a sophisticated, office-ready ensemble. Choose neutral colors for a timeless look or add a pop of color with a silk scarf.
The Casual Weekend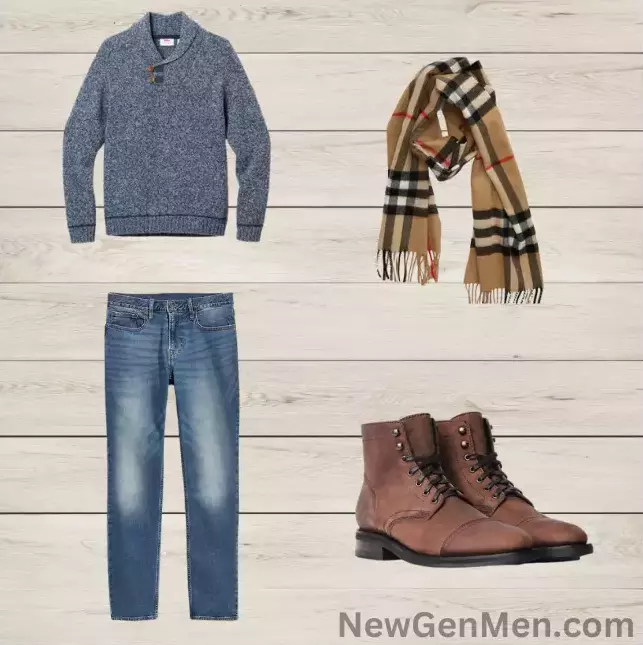 Throw on a casual cashmere scarf with your favorite jeans, a cozy sweater, and boots for a laid-back weekend look that exudes comfort and style. Don't forget a beanie for extra warmth.
The Urban Explorer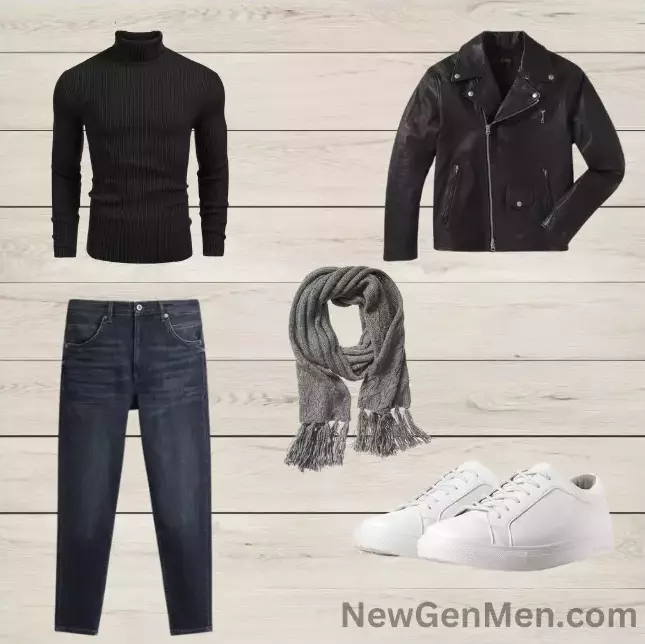 Wrap a large, knit, chunky scarf around your neck and layer it over a turtleneck sweater, a sleek jacket, slim-fit jeans, and stylish sneakers. This look is perfect for navigating the city streets in style on a brisk, autumn evening.
The Date Night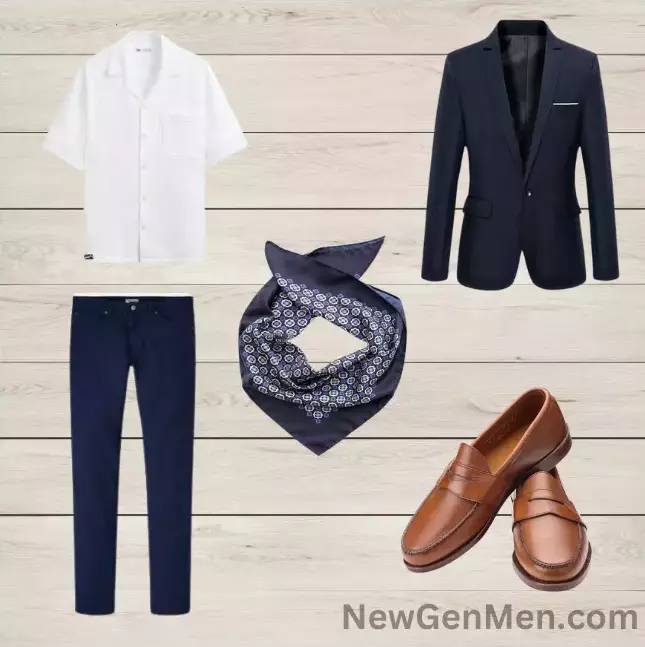 Elevate your date night outfit with a silk scarf paired with a casual sports blazer, dress shirt, and tailored trousers. It's a subtle way to show your attention to detail and that you can clean up nicely if need be.
The Winter Warrior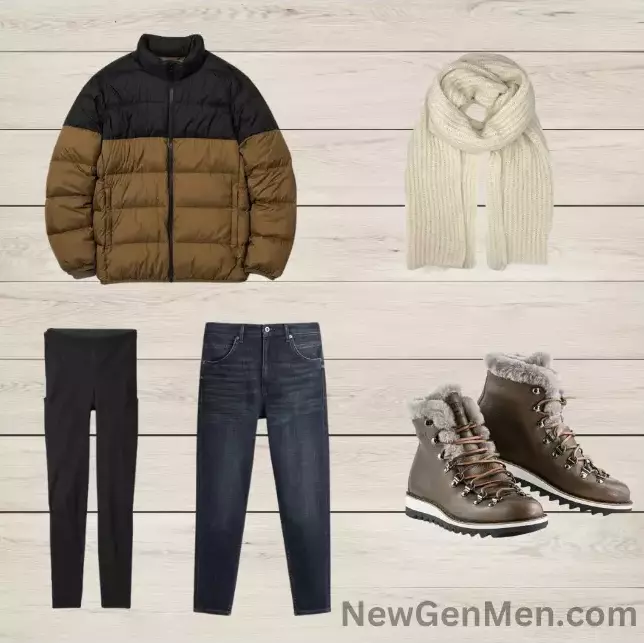 Embrace extreme cold with a thick, wool or alpaca scarf, a down jacket, thermal layers, and snow boots. This outfit is all about functionality without sacrificing style.
Also Read: