How to wear a fedora hat style guide. Wearing a fedora can give you a classic, old school vibe / Miami summer aesthetic.
Evoking images of Hollywood's golden era, the fedora hat has stood the test of time as a defining accessory for men. Although it seems in recent years fedoras have kind of gotten a bad wrap, especially with the fedora shaming meme of it being the preferred hat of dorky, m'lady nice guys who are characterized by having cringe-worthy behaviors.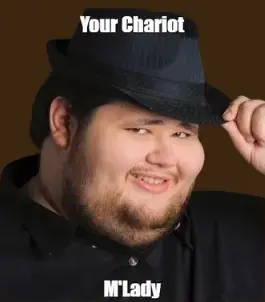 The meme cast an undeserved shadow on this classic accessory. Wearing a fedora doesn't have to give off that impression and can be worn as a stylish accessory that can give you a classic, old school vibe / Miami summer aesthetic.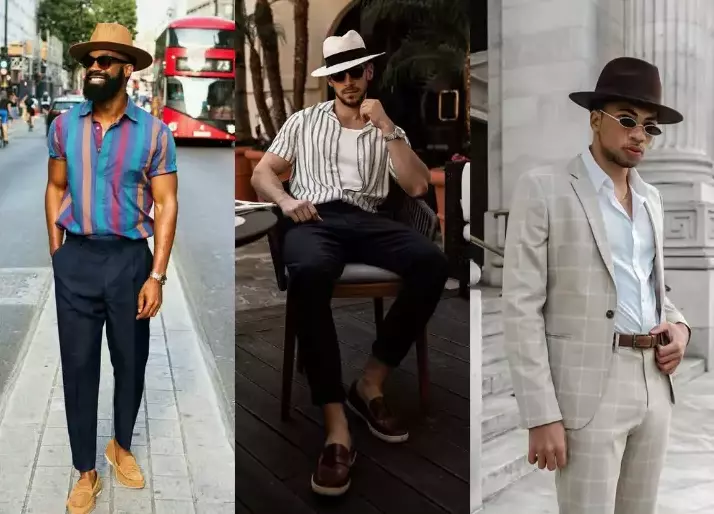 We'll go through how to wear a fedora to keep you cool in the summer while maintaining a laid-back, fashionable look.
What is a Fedora Hat?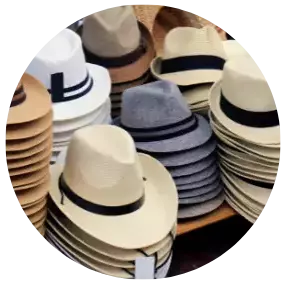 A fedora hat is a type of hat characterized by its wide brim, pinched crown, and often a ribbon or band around the base of the crown. It is typically made of materials like wool, felt, or straw and can be worn by both men and women. Fedoras have been a popular fashion accessory for decades and are often associated with a classic, timeless, and slightly formal look.
The Fedora hat also a has cultural significance within the Cuban community. It is often associated with the style and traditions of Cuban immigrants who settled in Miami, especially during the mid-20th century. It's influence has made the fedora synonymous with warm weather, beach fashion that is still rooted in today's fashion culture.
Are Fedora Hats in Style?
Yes, fedora hats are in style. While fashion trends come and go, fedora hats remain timeless. Men's hats in general have been making a roaring comeback on the 2023/2024 fashion runways and can often be seen worn by the hottest male celebrities and influencers.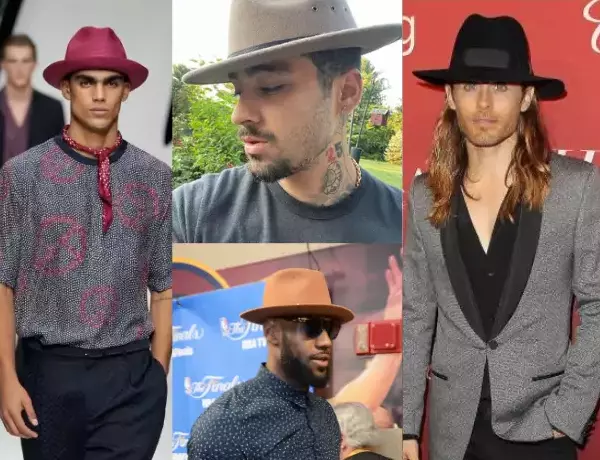 Where To Wear A Fedora?
You can wear a fedora hat to a variety of occasions and settings, depending on the style of the hat, overall outfit, and where you're going. Here are some common places and events where you can wear a fedora without it being odd:
Formal Events: Fedoras are a stylish choice for formal occasions like weddings, galas, and black-tie events. Pair a classic fedora with a well-fitted suit or tuxedo to add a touch of sophistication.
Outdoor Activities: If you're spending time outdoors, whether it's hiking, picnicking, or attending a summer picnic, a fedora can offer both style and sun protection.
Concerts and Music Festivals: Fedoras are a popular accessory at music festivals and concerts, especially if you're going for a bohemian or retro-inspired look.
Dining Out: A fedora can add a touch of class to your dinner outfit when dining at upscale restaurants or even trendy eateries. It's a lot more outfit appropriate than a baseball cap or beanie.
Date Nights: Impress your date with your eye for style by adding a fedora to your outfit when going out for a romantic dinner or a night on the town. It can be the perfect accessory to add some swag to a simple outfit without being overbearing.
Vacations and Travel: When exploring new destinations or relaxing on a beach vacation, a straw fedora can provide sun protection and is perfect for a resort style look.
Themed Parties: For costume parties or events with a specific theme, a fedora can be a key accessory to complete your look. It can work for everything from 1920s Gatsby parties to Western-themed gatherings.
Different Fedora Fabrics
Wool: Wool fedoras are among the most traditional and classic options. They are warm and suitable for colder weather. Wool fedoras can be made from different types of wool, such as merino wool or tweed.
Fur Felt: High-quality fedoras are often made from fur felt, which can come from various animal sources, including rabbit, beaver, or even chinchilla. Fur felt fedoras are known for their durability and soft texture.
Straw: Straw fedoras are perfect for warm weather and summer occasions. They are lightweight and breathable, making them comfortable in hot climates. Different types of straw, like Panama straw or raffia, are commonly used for making straw fedoras.
Cotton: Cotton fedoras are lightweight and breathable, making them suitable for casual and warm-weather wear. They are less formal than wool or fur felt fedoras.
Linen: Linen fedoras are another option for hot weather. Linen is a breathable and lightweight fabric that helps keep you cool in the heat.
Synthetic Materials: Some fedoras are made from synthetic materials like polyester or nylon. These are often used for more budget-friendly options or for hats that need to withstand specific weather conditions.
How To Wear A Fedora Hat: Outfit Ideas
Summer Resort Vibes: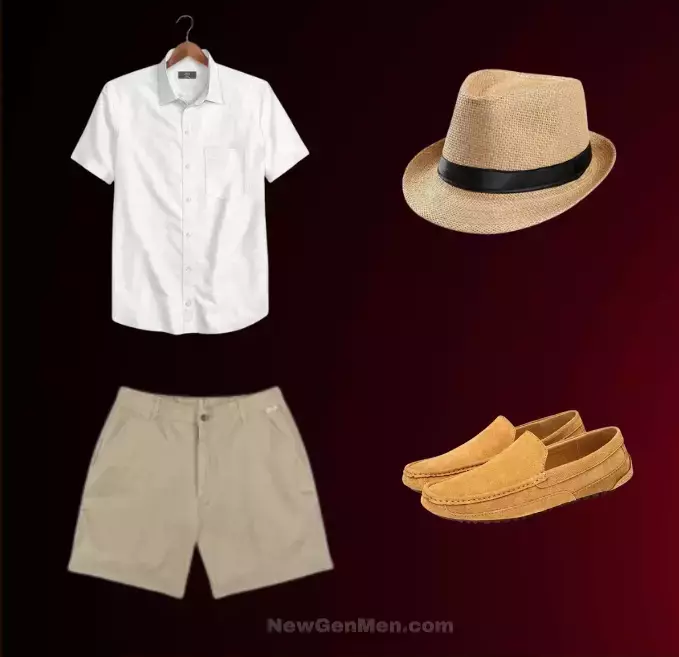 Match a straw fedora with a light, linen button-down shirt, khaki shorts, and sandals or loafers for a breezy summer outfit that exudes a vacation-ready charm.
Classic Suit: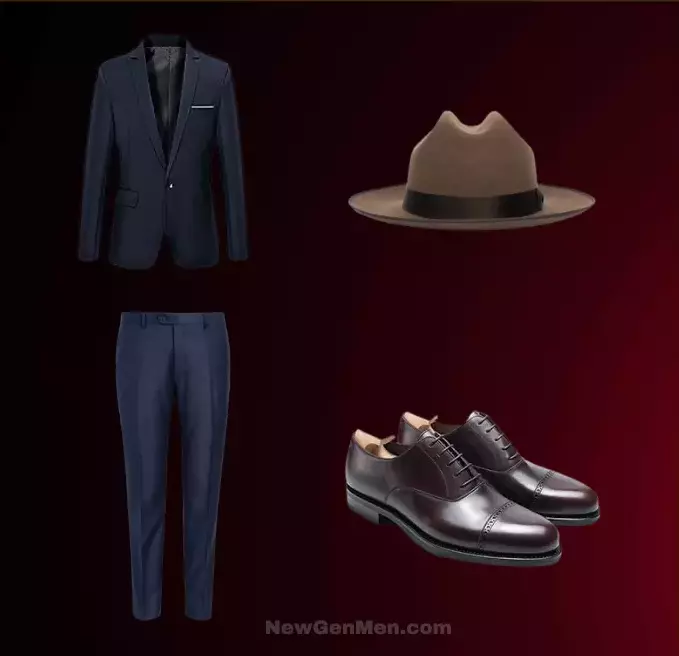 Pair a fedora with a well-fitted suit for a timeless, sophisticated look. Opt for earthy tones like charcoal or navy to maintain an air of class.
Smart-Casual: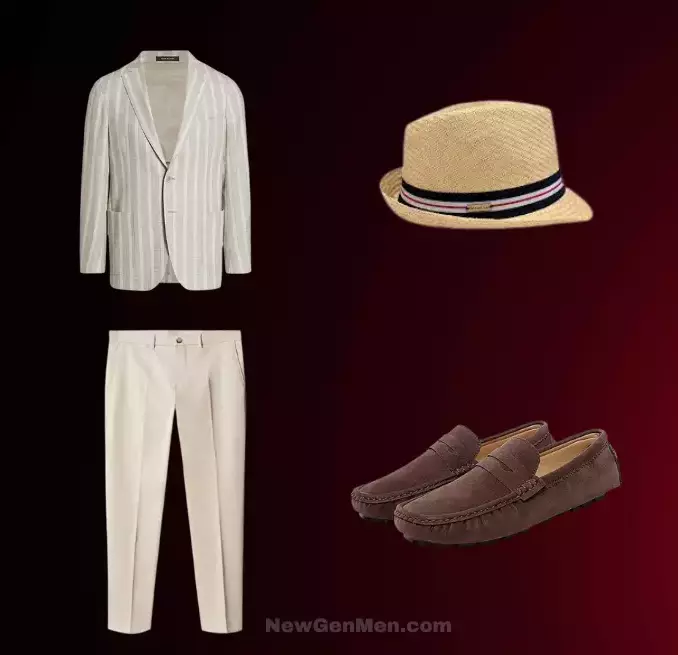 Combine a fedora with a light colored, opened, sports blazer, crisp dress shirt, and fitted chinos for an effortlessly polished appearance perfect for semi-formal events.
Street Style: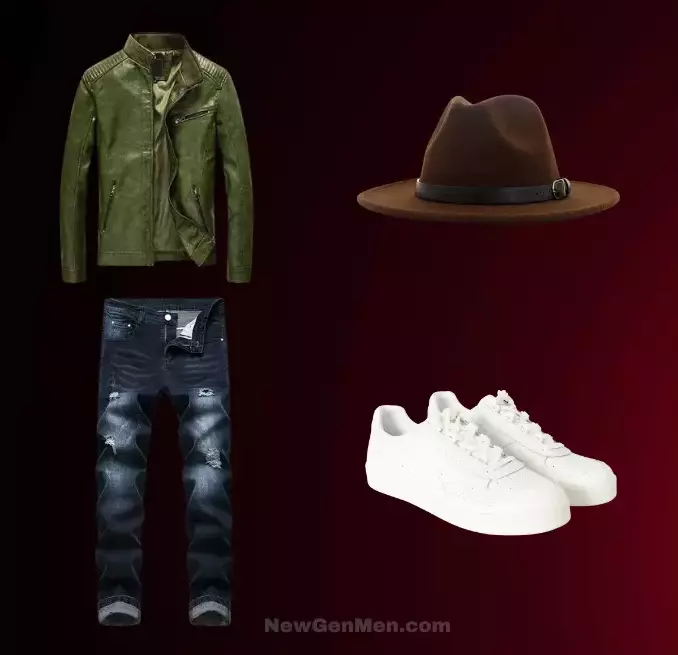 Embrace a relaxed yet stylish look by teaming a fedora with a white T-shirt, leather or bomber jacket, slim jeans, and clean sneakers. The hat adds a dash of unexpected flair to a mostly casual outfit.
Best Fedora Hats For Men – Popular Picks
Crafted from high-quality wool, the Brixton Messer Fedora Hat exudes a classic charm. Its pinched crown and leather band detail add a touch of sophistication to any ensemble.
Ladybro's Panama straw hat includes a shorter brim which is angled down at the front and slightly turned up at the back, a style once viewed as the rich man's favored hat. Lightweight and breathable, this hat will help you stay sweat-free and keep the sun out of your eyes.
The Scala Classico Fedora boasts a timeless design with a wide brim, making it a perfect addition to formal and casual outfits alike. The wool felt construction ensures both durability and comfort.
With a distinctively modern twist, the Bailey of Hollywood Mannes Braided Fedora features a center dent crown and a striped grosgrain band. It strikes the balance between classic and contemporary effortlessly. This snap-brim, braided straw hat is malleable and packable for traveling convenience and eye-grabbing style.
Wallaroo Hat Company's Charleston Fedora is made of 100% natural seagrass and cotton lining. Not only is it stylish, it offers UPF 50+ sun protection. Great for ourdoor activities with its breathable metal eyelets, faux suede trim, and removable chin strap.
Wrap Up
The fedora hat is more than a mere accessory or an embodiment of the nice guy meme. It's a statement of style, an homage to tradition, and a bold nod to individuality. Not to mention it just being a practical hat to wear in both hot and cool seasons.
Embrace its charm, incorporate it into your wardrobe with confidence, and redefine what it means to wear this iconic piece of headwear. As trends come and go, the fedora remains a steadfast companion for the modern man seeking to stand out in a sea of fashion choices. Just try your best to not tip your fedora when ending the night and calling your date, "m'lady'.
Also Read: