The exact John Wick suit might be impossible to get, but you can easily find comparable blazers and trousers to get the look.
When you think of John Wick, the first image that likely comes to mind is the relentless assassin in a perfectly tailored black suit, eliminating bad guys with impeccable precision.
John Wick's suit has become synonymous with his character—a symbol of elegance, sophistication, and, paradoxically, ruthless efficiency. Who wouldn't want to emulate that aura?
Though clothing is but a fraction of what defines a man, it serves as an excellent launching point. We'll look into what kind of suit John Wick wears and give you the best ways to replicate his suave, down-to-business style.
Why Does John Wick Wear a Suit?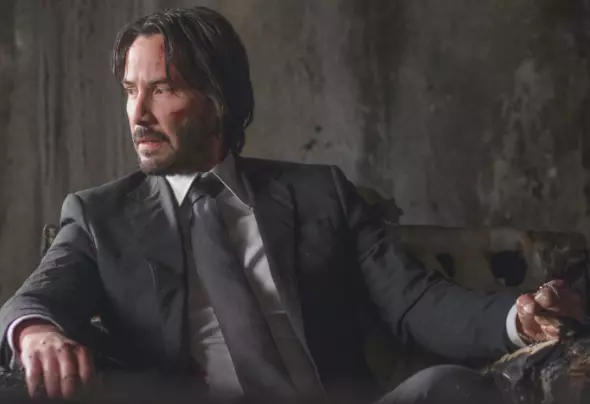 In order to truly emulate John Wick's style, we must first understand why he wears a suit in the first place. Why not something more casual like a tracksuit or other typical hitman attire to seamlessly blend in with the general populace?
Urban Camouflage: One theory suggests that John Wick's choice of attire serves as a form of understated, urban camouflage. In a world where assassins blend into plain sight, his suit allows him to appear as just another well-dressed man in the crowd. Wick also had to infiltrate high class areas where formal attire would be a must, whereas a T-shirt and jeans would make him stick out and appear to not belong.
Respect and Tradition: In the world of assassins depicted in the John Wick films, there are codes of conduct and a sense of honor. Wearing a suit might signify respect for the traditions and rules of this old school, clandestine society. John Wick's mentors were elite, high ranking officials in their factions, so it's possible Wick was influenced by their sophistication and style.
Symbol of Grief: The suit could also be seen as a symbol of John Wick's grief and mourning. The memories and death of Wick's late wife are shown in flashbacks and photographs, and her death seemed to spiral him into a deep depression that led him back to the underworld.
Armor and Protection: John Wick's suit were not only a fashion choice but also had functionality. Wick's 'bulletproof' suits had cutting-edge technology seamlessly built into its design. Beneath the elegant exterior of fine fabric, the suit conceals a layer of state-of-the-art ballistic, Kevlar-like material, making it capable of withstanding high-velocity projectiles like bullets.
What Suit Does John Wick Wear?
John Wick's suits were custom made specifically for Keanu for the film by costume designer Luca Mosca. Contrary to the most well known promotional images we see of John Wick in his all black suit, the majority of suits he wore in the films were actually a dark gray color that appeared black or blue due to the dark settings.
But it's not just the color that makes the suit iconic, it's also the fit. John Wick wears classic suits that fit him like a glove, allowing for ease of movement during intense action sequences. His jackets are snug, accentuating his physique, and trousers are slim and tapered, allowing for agile movement. This tailored fit enhances his silhouette and complements his combat skills, making him look sharp and deadly at the same time.
John Wick typically wears three types of suits: casual, business casual, and formal suits.
Casual Suit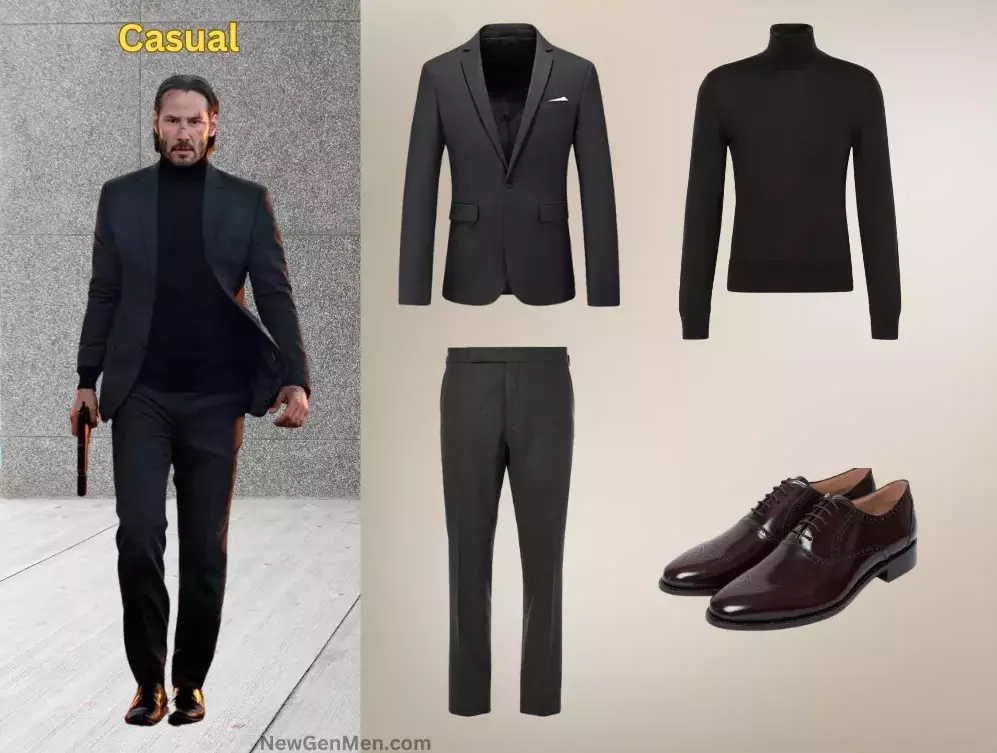 John Wick occasionally dons a more relaxed, casual suit when he's not in the midst of intense action or on a mission. He'll typically wear an unbuttoned, dark gray sports suit with a black shirt or turtle neck underneath. He may ditch the tie but will still don matching, tailored trousers and a pair of black or brown leather dress shoes.
Business Casual Suit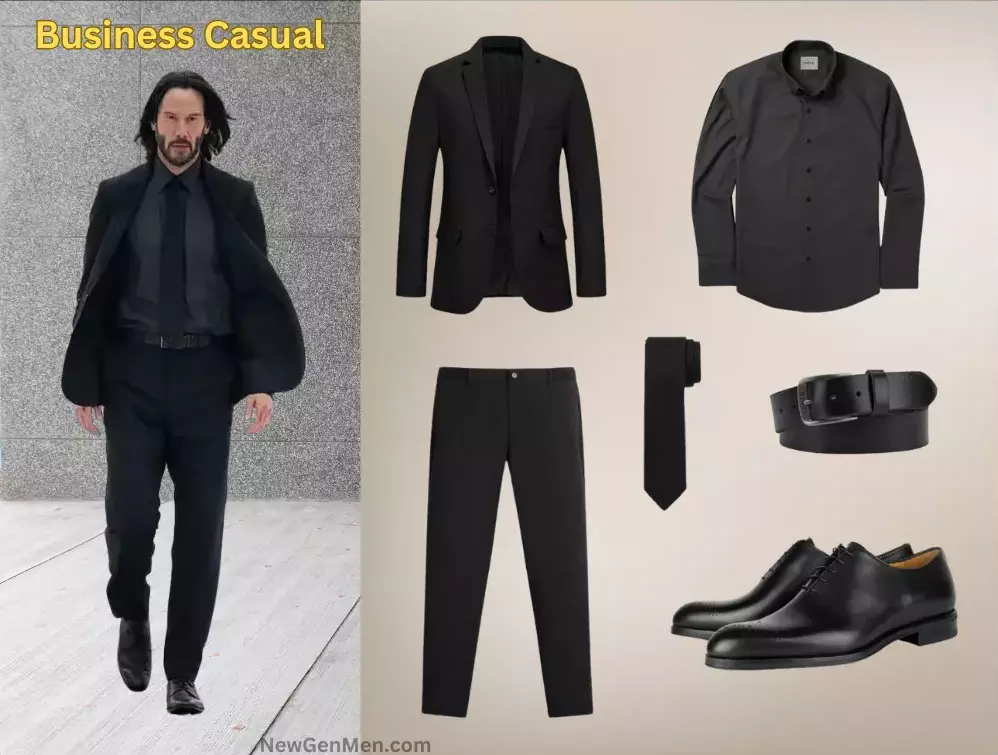 When John Wick is attending meetings or events that require a professional yet not overly formal attire, he opts for business casual suits. These suits strike a balance between formal and informal styles, often featuring well-fitted, dark blazers or paired with dark gray, black, or white dress shirt, a matching dark tie, trousers, and black, leather Oxfords.
Business Professional Suit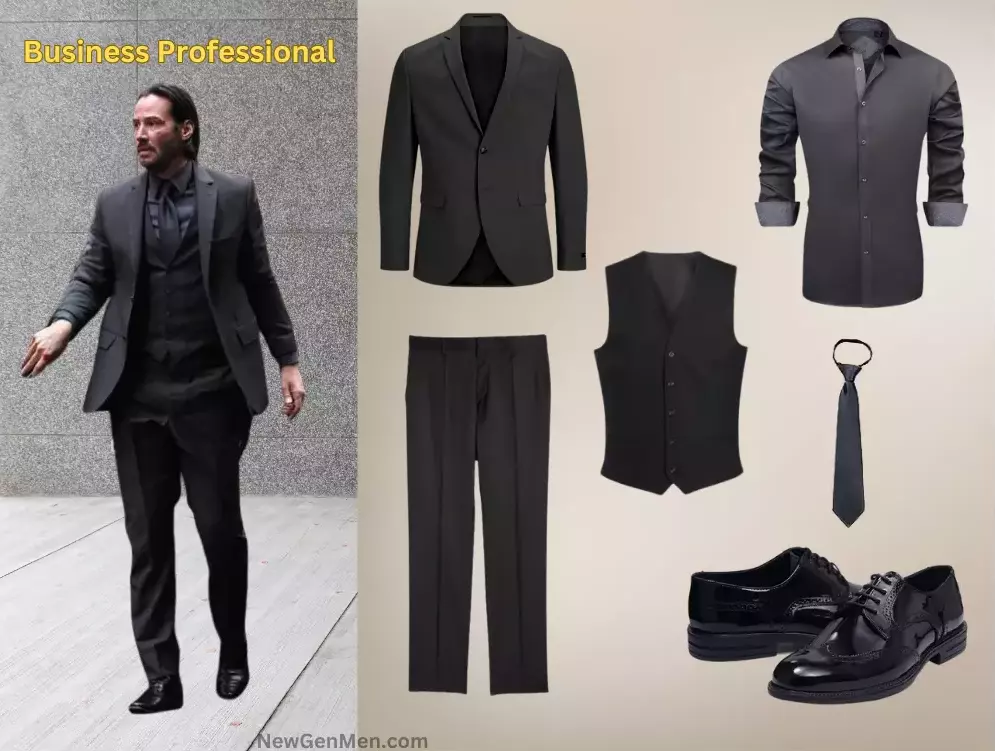 When John Wick is meeting important associates and carrying out his most daring and bold missions, he dresses to the nines. Wick's business professional formal wear is a 3-piece suit which includes a fitted black or deep charcoal blazer, crisp white or black dress shirt, waistcoat vest, and a tie (tucked into vest). He'll finish the ensemble with his signature black leather Oxfords, shined with no scuffs.
How To Dress Like John Wick: Get The Suit
Although acquiring an identical suit to John Wick's custom-made suit might be impossible, you can easily find comparable blazers and trousers that can help you achieve the distinctive John Wick suit style.
John Wick Suit Blazers
This PJ PAUL JONES casual sports blazer includes notched lapels and a shoulder-pad-free design, resulting in a relaxed appearance. The unlined knitted fabric offers breathability and a lightweight feel, while the addition of fashionable patch pockets provides practical storage and enhances its stylish layering potential.
Calvin Klein is known for its sharp tailoring, and this CK Slim Fit Blazer is no exception. It features a modern, slim fit and a sleek silhouette that will flatter any body type. Its lightweight, breathable wool fabric makes it comfortable to wear all year long.
Beninos Slim Fit Casual Blazer features a one-button design and is crafted from a lightweight suit jacket material for comfort and breathability. Its modern fit and sleek appearance makes it a great option for casual events. There's also a convenient inside pocket perfect for storing your phone or wallet. An affordable option without taking away from quality and style.
John Wick Suit Pants
Dockers delivers a classic fit trouser with comfort and style in mind. They offer a relaxed fit through the seat and thigh area, sits comfortably at the waist, and features a straight leg. These trousers are made with stretch fabric for enhanced performance and come equipped with side hand pockets as well as button-through welt pockets at the back for added functionality.
Perry Ellis combines modern fit with performance into these stylish, modern-fit trousers. These pants are non-iron, ensuring a consistently smooth and wrinkle-free appearance, making them an ideal choice for business travelers. They also come with moisture-wicking fabric to keep you dry and prevent sweat from being visible through the fabric.
Calvin Klein's slim-fit dress pants offers a contemporary look and quality the signature brand is known for. These performance trousers prioritize both comfort and functionality, designed to complement your body's natural shape with stretchy, breathable performance fabric. They feature a tapered leg around the thighs and calves for a flattering, modern silhouette.
John Wick Suit Shoes
Crafted from premium leather, Clark's Tilden Cap Oxfords are sophisticated men's shoes that feature a square cap toe design and incorporate stretch gore panels to provide a flexible and comfortable fit. With an Ortholite footbed that effectively absorbs impact and wicks away moisture, these shoes prioritize your comfort. They also boast a modest 1-inch heel height for those who are looking for shoes that'll make you taller.
These classic Oxfords by Rockport are made with comfort in mind. Made from waterproof, genuine leather, these dress shoes feature a sponge EVA footbed that conforms to the shape of your feet to help provide a custom fit. They also includes treTECH shock abortion on the heel to provide extra cushioning and comfort all day long.
ECCO's Oxfords are a fresh and modern interpretation of the classic loafer. These slip-on loafers give you the look of heeled, dress shoe Oxfords but have the feel of wearing your favorite sneakers. They include PHORENE molded footbeds for enhanced cushioning and soft-textured lining for all day comfort. Whether paired with jeans for a sharp look or worn in formal settings, they exude sophistication and modern style.
Related: Calvin Klein Shoes For Men: Comfort and Style At An Affordable Price
Wrap Up
As you step into the world of the iconic John Wick character, remember that it's not merely about the suit you wear but the confidence you exude while wearing it. John Wick's style isn't just about the external appearance, it's about the way he carries himself, the way he moves with a blend of grace and lethal precision.
So, while you may invest in the right suit, don't forget to cultivate the self-assuredness that truly brings this style to life. Confidence, after all, is the invisible thread that weaves together the fabric of John Wick's unmatched allure and charisma.
Also Read: