hims Hair Loss Review of their best hair care products. Do they really help with thinning hair and a receding hair line?
Hims hair loss products have been gaining a lot of buzz and popularity as an effective solution for men experiencing hair loss and male pattern baldness.
Hims, the innovative tele-health company, offers a platform that connects patients to licensed healthcare professionals for finding solutions for issues in skincare, hair care, as well as sexual and mental health. They also offer their own line of wellness products to help combat these issues, and their hair loss products have been getting great reviews.
hims Hair Loss Products Main Ingredients
Finasteride: Finasteride is an FDA-approved prescription medication known to combat male pattern baldness. It works by blocking the hormone dihydrotestosterone (DHT), which is responsible for shrinking hair follicles in those susceptible to hair loss. The reduction in DHT helps to slow down the shrinkage, allowing them to recover and produce thicker, healthier hair over time.
Minoxidil: Minoxidil is a topical solution that works by increasing blood flow to hair follicles, which can stimulate hair growth and potentially prolong the growth phase of existing hair. It comes in over-the-counter products that can be found at a drug store as well as stronger versions that require a prescription.
hims Hair Loss Products
Hims offers a diverse selection of hair loss products that cater to different needs and preferences. Some products require a prescription before purchase while others can be purchase without a prescription online. Let's take a closer look at some of hims hair loss line's key offerings: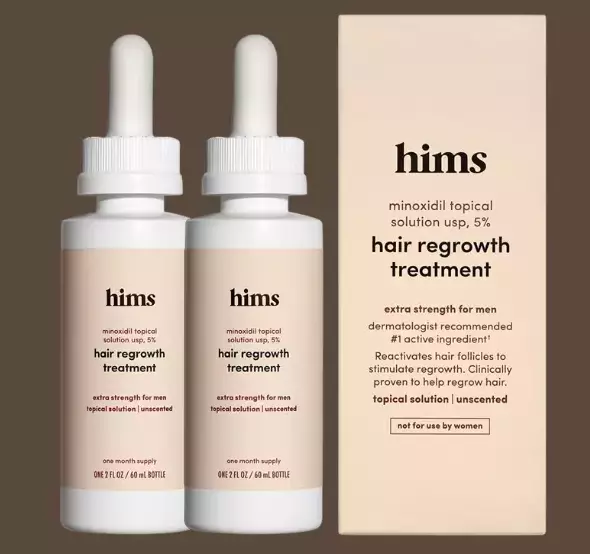 Hims Extra Strength Hair Regrowth 5% Minoxidil Treatment (comes in a liquid and foam form) is an easy-to-use topical solution that rejuvenates your hair follicles, jump-starting growth. This powerful minoxidil solution boosts blood flow to your scalp, supplying vital oxygen and nutrients to dormant hair follicles, putting them into a growth cycle, and extending this phase for longer-lasting results. 
Simply apply it twice a day to thinning areas of your scalp and let it dry before styling your hair as usual. Remember, consistency is key; if you stop using it, you may lose your regrowth within one to three months. (No prescription needed for purchase)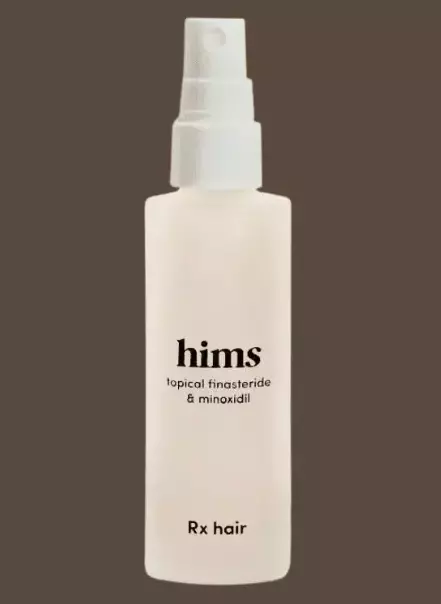 Hims Topical Finasteride & Minoxidil Spray is your all-in-one solution for tackling hair loss and stimulating new hair growth. This powerful spray combines Finasteride and Minoxidil, two clinically proven ingredients, to block hormones that lead to hair loss and to help stimulate hair growth. Its quick-drying spray formula is applied once a day and is said to deliver results in as little as 3-6 months.  (Prescription needed for purchase)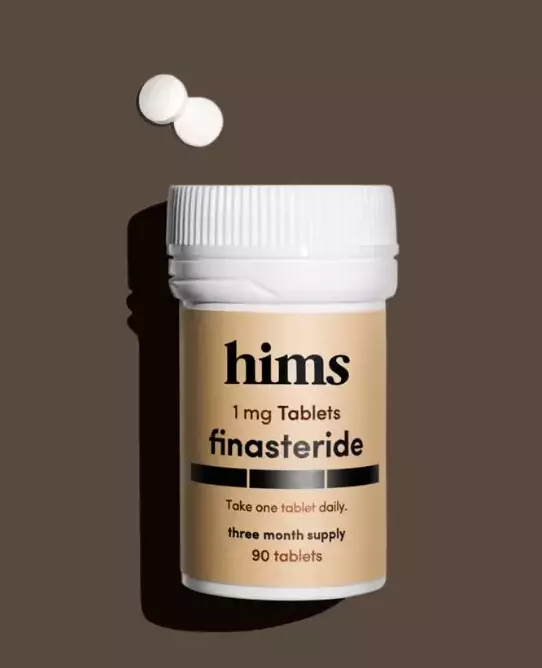 Hims Finasteride Pills offer an oral medication solution to combat hair loss, effectively blocking the production of the DHT hormone responsible for hair thinning. These finasteride pills are the generic form of the hair loss medication Propecia. Dosage is typically 1 mg tablet per day, although high dosages can be prescribed for more severe cases.
Hims Finasteride Pills are FDA approved and have been clinically proven to deliver impressive results, with over 90% of users experiencing increased hair regrowth or a significant reduction in hair loss. For even more effective results, consider pairing finasteride pills with other finasteride and minoxidil topical products to supercharge your hair regrowth journey. (Prescription needed for purchase)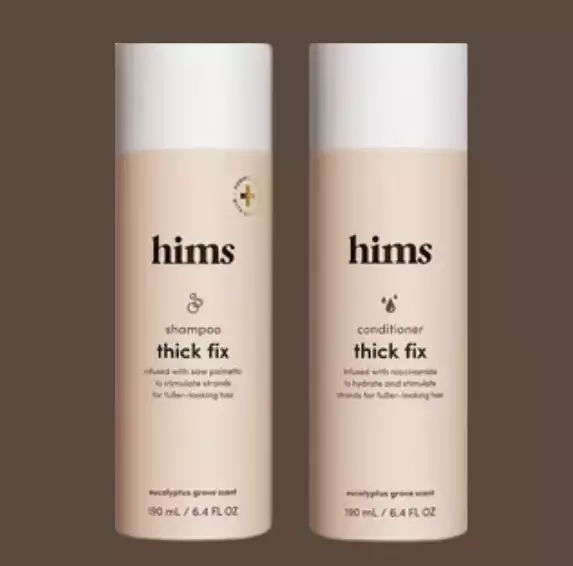 Hims Thickening Shampoo and Conditioner are an effective duo for achieving fuller, healthier-looking hair. The shampoo cleanses your hair follicles, removing excess oils and gives you the appearance of thicker, voluminous hair.
The conditioner not only adds moisture but also strengthens and repairs your locks, ensuring your hair looks and feels its best. Both products are enriched with nourishing ingredients like saw palmetto and a potent blend of amino acids, argan oil, and coconut oil, providing a powerful moisturizing treatment for your hair. (No prescription needed for purchase)
My hims Hair Loss Products Review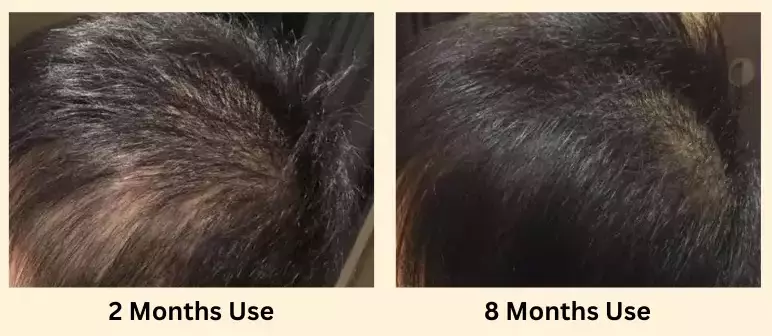 I chose to experiment with hims hair loss solutions to address my initial worries about thinning at the crown and a slowly receding hairline. While my hair condition hasn't reached an advanced stage, the genetic history of male pattern baldness in my family prompted me to take a proactive approach.
My review is focusing primarily on their hims Finasteride Pills and hims Extra Strength Hair Regrowth Minoxidil Treatment serum, which I took at the same time for one year
hims Finasteride Pills Review
I started with the Him Finasteride Pills, an oral prescription medication known to combat male pattern baldness. The first 3 months really had no results, typical, if not more hair shedding than usual. This seems to be the norm as users are warned that initial shedding and hair loss may occur before the regrowth cycle kicks in.
Around 4-6 months I began to see subtle improvements with a bit quicker hair growth in the patchy areas on the top and back of my head. There was definitely less shedding in the shower and more filling, even in the areas that have been growing thin for the past few years.
My hairline seemed to take longer to see results than the crown of my head but eventually started to fill in nicely. It seems in the last 2-3 months my hair growth cycle has really kicked into action and the results are really starting to become noticeable. Hair seems to be growing faster and thin areas are less visible. The results are undeniable as my hairline and overall thickness is close to what I had in my younger years.
As for side effects, I did not experience any major side effects from the finasteride pills aside of nausea on a few rare days. One of the major side effects users are warned of are sexual side effects like erectile dysfunction. Searching discussions on social media sites like Reddit, it does not seem to be too common but it does occur with some users experiencing long-term sexual side effects. If you feel you're already at risk, it may be best to skip the pills and stick to topical treatments only.
hims Extra Strength Hair Regrowth Minoxidil Treatment Review
As recommended, I incorporated a topical minoxidil solution into my routine alongside the hims Finasteride Pills by using the hims Extra Strength Hair Regrowth Minoxidil Treatment. This topical solution should be applied twice a day, which I used morning and night after showering. I used the liquid serum which doesn't have a harsh smell and dries quickly. It's best to use a conservative amount or else it'll feel a bit greasy.
I've used other minoxidil topical products before so I already knew it works well on my scalp. Many men and women have success with topical minoxidil treatments for hair loss so hims Extra Strength Hair Regrowth Minoxidil Treatment isn't some new, experimental invention. It is comparable, if not more effective, than other minoxidil treatments like Rogaine and Mars– so if you've had moderate success with those brands, hims hair loss products may be worth a try.
You may not see results in the first few months but after the 6 month mark I noticed less hair loss and good gains on my crown. It didn't seem to work as well on my hairline or at least had weaker, slower results. It could be my hairline is just a problem area for me and always will be as other reviewers have reported better results.
The most common side effect of minoxidil topical treatment is skin irritation, skin rash, or a mild burning feeling after use. There was a slight burning and itchy feeling for me that subsided after the first few applications. If symptoms are severe or consist for a long period of time, it's best to stop using it immediately and consult a physician before continuing.
Related: Stop Cowlick Hair: Best Hairstyles and Products
Wrap Up
Hims products have made a positive difference in my hair loss journey, however, it's best to have realistic expectations and be aware of the potential side effects. Using finasteride and minoxidil treatments are a long term commitment and will only last with consistent use. Stopping these treatments will result in hair loss typically within 1-3 months and you may have to turn to more permanent options.
Also Read: