How To Style Birkenstock Boston shoes for any occasion.
Nothing exudes laid-back, high society style more than a pair of Birkenstock Bostons. They're the ultimate slip-on shoe that marries comfort with a touch of rugged class. These clogs have been a staple in men's footwear since the 80s, although Birkenstock, a German footwear brand, has been around since the late 1700s!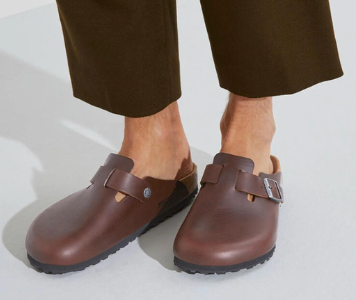 The distinctive feature of Birkenstock Boston shoes is their closed-toe design with an adjustable strap, offering a snug and personalized fit. But what truly sets them apart is their signature contoured cork footbed.
The anatomically shaped footbed is a game-changer when it comes to comfort. It molds to your feet over time, providing unparalleled support and cushioning, making long days on your feet free from aches and pains.
But comfort isn't the only reason for their popularity. Birkenstock Boston shoes are incredibly versatile, bridging the gap between casual and semi-formal footwear. Whether you're dressing up for a night out or going the more casual route for a day-time brunch, these clogs will give you an effortless, laid back cool without making you look dressed down.
Are Birkenstock Bostons in Style for Men?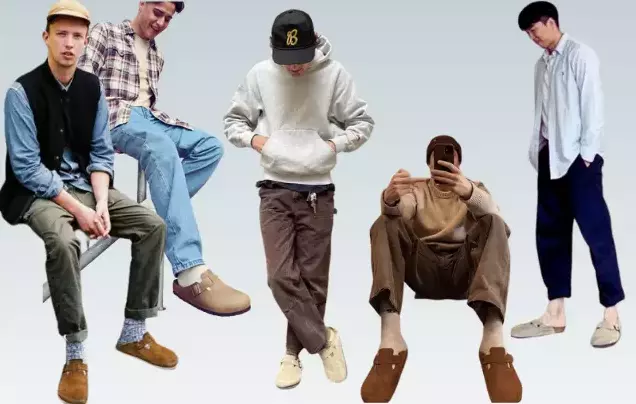 Birkenstock Boston clogs are not only timelessly in style for men but have also made a recent reemergence as the lazy day, rich guy, weekend shoe. Their growing popularity can be attributed to their versatility and the growing appreciation for comfort in fashion.
In recent years, there has been a noticeable shift towards more relaxed and comfortable styles in men's fashion. Athleisure and streetwear have gained ground, and Birkenstock Boston shoes fit seamlessly into this aesthetic. They effortlessly pair with joggers, denim, or even tailored trousers, allowing you to stay on-trend while prioritizing your comfort.
Another factor contributing to their continued relevance is the resurgence of the '90s fashion revival. Birkenstock Boston shoes are a nod to this era, invoking a sense of nostalgia while remaining completely contemporary. This combination of comfort, versatility, and a dash of retro flair has solidified their place in the style lexicon for men.
How to Style Birkenstock Boston Shoes for Men
The beauty of Birkenstock Boston shoes lies in their adaptability to various outfits. Here are some outfit ideas to help you rock these clogs in style:
Business Casual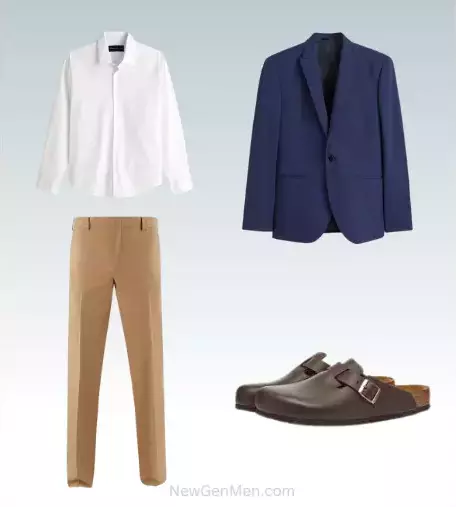 Nothing is worse than being stuck in a suit on a hot summer day. Let your feet breathe and play with your professional look with Birkenstock Bostons. Match them with grey or khaki trousers, a dress shirt, and a casual sports blazer. The Birkenstock Bostons add a touch of cool to an otherwise formal outfit, striking a balance between business and casual.
Chill Weekend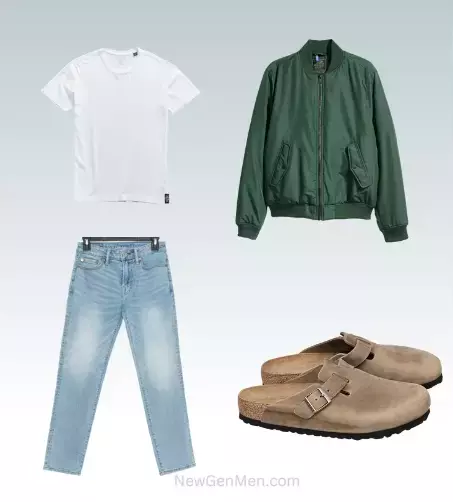 For a laid-back weekend look, pair your Birkenstock Bostons with slim-fit jeans or chinos, a crisp white T-shirt, and a lightweight jacket. This is an easy and casual, but still put together, look for running errands or spending a leisurely day outdoors.
Street Style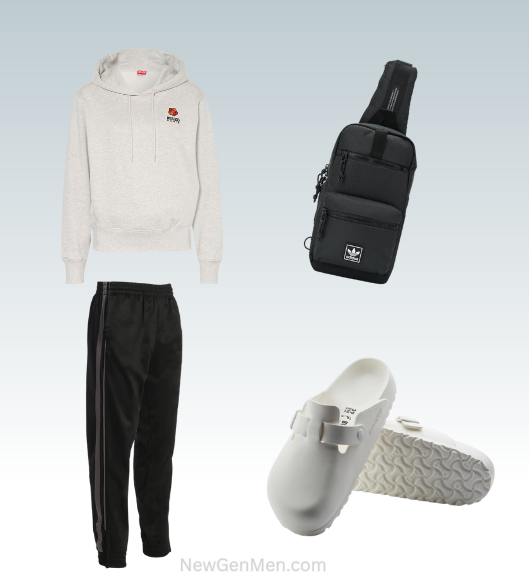 Embrace the athleisure trend by pairing your clogs with distressed jeans or track pants, a hoodie, and a stylish crossbody bag. It's a trendy, casual look while taking in the sights of the city, with your Birkenstock Bostons adding a bit of class.
Beach Ready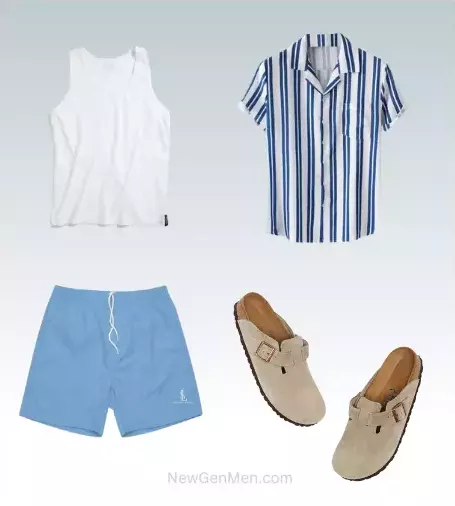 Heading to the beach or a resort? Slip into your Birkenstock Boston shoes along with your favorite swim trunks or hoochie daddy shorts and a breezy button-up shirt. The closed-toe design provides protection while still allowing your feet to breathe. A comfortable alternative to those who aren't big on sandals.
The Best Birkenstock Boston Clogs for Men
Birkenstock offers a range of Boston clogs for men, each with its own unique features. Here are a few standout options: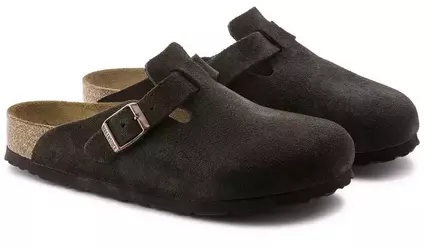 These top-selling Birkenstock Boston classics feature an extra layer of foam cushioning in the footbed, making it incredibly comfortable for extended wear. Ideal for those who prioritize all-day comfort without compromising on style.
For a touch of luxury, consider the suede options. The soft and supple suede upper adds a premium look to your footwear collection, making it suitable for more formal occasions.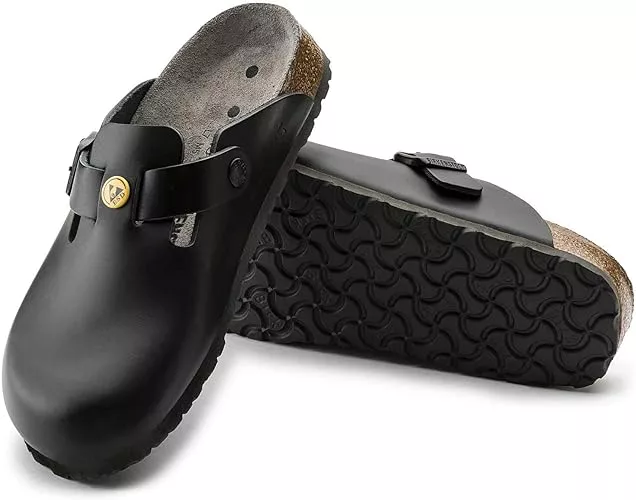 These lightweight, leather Birkenstock Bostons include an anti-static EVA sole which helps provide good grip and at the same time a protected and spacious toe area.
The anatomically shaped birch stick cork latex footbed contributes to long-term, comfortable wear with adjustable straps and a buckle to adjust the shoe perfectly to your size.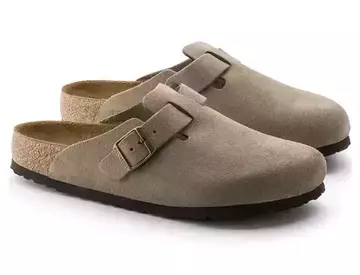 For those looking for more than just fashion but also functionality for long-term, all day comfort, the Birkenstock Boston Super Grip Shoes are the perfect work shoe.
Recommended by those in professions in the kitchen and hospitals, the non-slip rubber sole provides secure grip that will adhere to all safety rules. The cork footbed will anatomically mold to the shape of your foot customizing the cushioning to your permanent comfort level.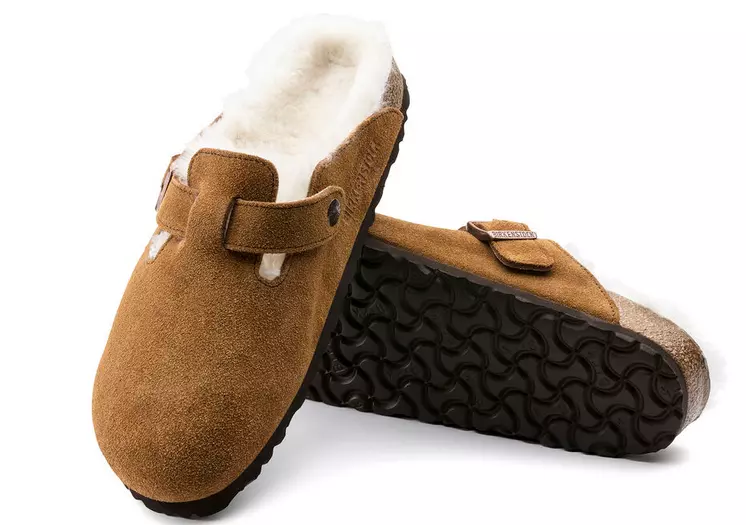 This ultra-cozy rendition of the timeless Birkenstock Boston clog is crafted from genuine, high-quality suede. The shearling footbed and strap lining exude both fashion and warmth, making it the ideal footwear choice for enjoying chilly fall and winter evenings.
You can wear socks for extra warmth or go sockless in the lowest of temperatures and your feet will stay toasty and warm while looking stylish.
How to Clean Birkenstock Boston Clogs
To keep your Birkenstock Boston shoes looking sharp and maintaining their comfort, it's essential to know how to clean and care for them. Here's a simple guide:
Regular Cleaning: Wipe down the shoes with a damp cloth after each wear to remove dirt and sweat. If they get wet, let them air dry naturally, away from direct heat sources.
Deep Cleaning: When they require a thorough clean, remove the footbed and straps if possible. Hand wash them with mild soap and water, then let them dry completely.
Suede Care: For suede versions, use a suede brush to gently remove dirt and stains. If necessary, invest in a suede cleaner to maintain their appearance.
Leather Maintenance: Leather Boston clogs benefit from occasional leather conditioner to keep the material supple. Use a leather-specific cleaner to remove stains.
Footbed Refresh: Over time, the cork footbed may show signs of wear. You can purchase Birkenstock-specific cork sealant to maintain its quality. This will help prevent cracking and maintain its shape.
Also Read: