The best men's travel suits and travel bags for suits.
If your job requires you to jet-set on a plane and land straight into meetings, travel suits for men are a lifesaver and essential to your wardrobe. There's no point in wearing a fancy suit on a flight only to land with it full of wrinkles and sweat.
What are Travel Suits?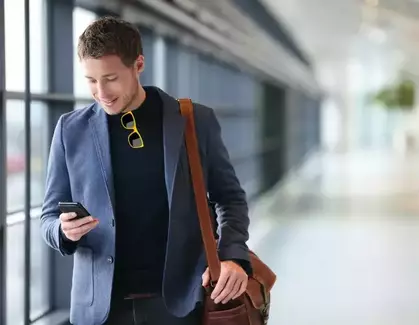 A travel suit differs from a regular business suit as they are typically made of lightweight, stretchy, and wrinkle-resistant fabrics that are designed to be comfortable and maintain their condition while traveling. Reinforced stitching and commonly used materials like polyester, wool-blends, and micro-fibers allow you to arrive at your destination looking fresh and well-dressed, without the need for ironing or steaming.
Best Travel Suits For Men
When shopping for men's travel suits, ideally you want light-weight, durable, wrinkle-free, high performance fabric. You should also look for comfortable suits that have stretchy material and good breathability and ventilation. And of course, style and price are important factors to take into consideration. Here are some of the most popular and affordable men's travel suits brands and styles.
This sleek and modern suit by Calvin Klein offers a slim fit with stretch fabric for maximum comfort. It features a two-button closure and flat-front pants.
Key Highlights:

High Performance bi-stretch fabric
Modern, slim-fit design
Two-button closure
Tommy Hilfiger's Modern Fit Jacket provides a classic and timeless look. Made from a wool, polyester, and spandex blend, this suit is designed to be durable, resist wrinkles and maintain its shape.
Key Highlights:

Classic and timeless design
Wrinkle-resistant
High performance, stretch fabric
his Kenneth Cole Wool Travel Suit offers a modern fit and is crafted from a blend of wool and spandex. It features a two-button closure and side vents for a comfortable fit.
Key Highlights:

Finished bottom hem
Side vents and a fully lined interior
Two-button closure
The Perry Ellis Slim Fit Jacket combines style, comfort, and high performance. It is made from a polyester blend specifically made for traveling with its performance stretch, wrinkle resistant, and moisture wicking capabilities.
Key Highlights:

Slim fit design
Stain resistant
Single breasted, two-button closure
Travel Bag for Suits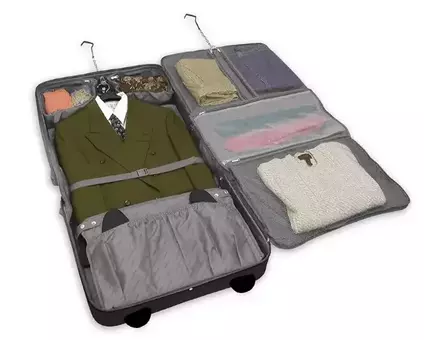 If you're traveling and will have extra time to get ready after landing, you can pack your travel suit in a travel bag to ensure your garment stays looking crisp and fresh. Investing in a high-quality travel bag for your suits is a wise decision to ensure they arrive wrinkle-free and in impeccable condition.
When shopping for a travel bag for men's suits, look for a bag that offers:
Garment Compartment: Look for a bag that has a dedicated garment compartment that's spacious enough to hold your suits and has hangers and adjustable straps to keep the suit in place.

Wrinkle-Resistant Material: Opt for a bag made from wrinkle-resistant or non-creasing materials like nylon or polyester to help minimize wrinkles during travel.

Size and Capacity: Consider the size of the bag to ensure it can accommodate your suit(s) and other travel essentials without excessively folding or squeezing them.

Carry-On Compatibility: If you intend to use the bag as a carry-on during air travel, check its dimensions to ensure it complies with airline carry-on size restrictions.

Multiple Compartments and Pockets: Look for a bag that offers additional compartments or pockets to store accessories like ties, belts, socks, and toiletries.

Durable Construction: Ensure that the bag is well-made with sturdy zippers, reinforced stitching, and durable handles or straps.
Best Travel Bags For Suits
The Briggs & Riley Baseline Garment Bag is a top-notch option with its durable ballistic nylon construction. This carry-on bag features a spacious garment compartment that can hold 1-2 suits and offers a smart design to minimize wrinkles.
Key Highlights:

Includes Wally clamp to securely hang 2-3 suits
Wheeled, carry-on bag
Foam centered garment panels to reduce wrinkles
The London Fog Cambridge II Garment Bag has a sophisticated design that accommodates multiple suits and includes a spacious interior with a hanger bracket and tie-down straps. Its exterior pockets provide convenient storage for accessories, while the reinforced corners ensure durability.
Key Highlights:

Hanger bracket holds clothes in place
Top carry handles and detachable shoulder strap
Multiple interior pockets
The WallyBags Slim Garment Bag is a lightweight and compact option perfect for packing a suit. Made of water-resistant polyester, it offers a simple yet efficient design. The bag accommodates multiple suits or dresses and includes two large pockets for accessories. Its patented WallyLock hanger clamp secures your garments and prevents them from shifting during travel.
Key Highlights:

Fits in overhead compartments or under seats
Wrinkle-resistant polyester lining
Folds in half and secures with adjustable straps
Related: Resort Casual Attire for Men – What To Wear
Business Professional Travel Styling Tips
Styling travel suits can be versatile and depend on the occasion, formality, and personal preferences. Here are some tips for styling travel suits:
Business/Formal Look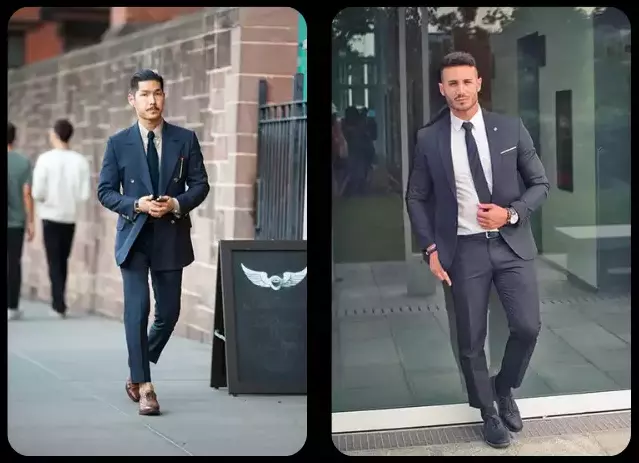 To step off a plane looking like you're dressed to the nines, go with a formal, business professional look. That includes a 2-piece suit with a well-fitted blazer, an ironed dress shirt and trousers, a sleek tie, and polished dress shoes like Oxfords. It may not be the most comfortable attire for your travels but your professional aura and demeanor will make you stand out as an important professional that dresses to impress.
Business-Casual Look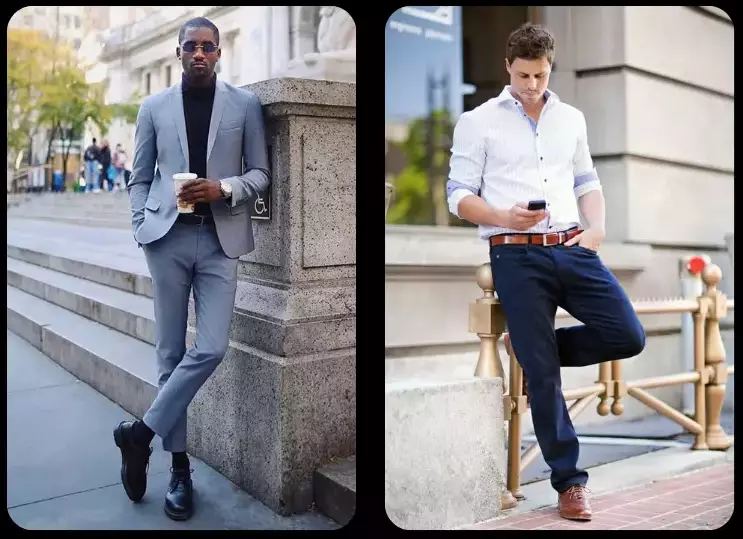 If you want to ease up a bit but still want to maintain a professional appearance, a business-casual look would better suit your style. Swap the dress shirt and tie for a more relaxed option such as a button down shirt or turtle neck. If you still want to wear a travel suit blazer opt for more sporty styles and different colors, patterns, and textures to add a bit of a flair. Trousers can match the blazer or go for a different shade like khaki. Finally, finish your outfit with a bit more comfortable but still professional shoes like loafers or brogues.
Cool and Casual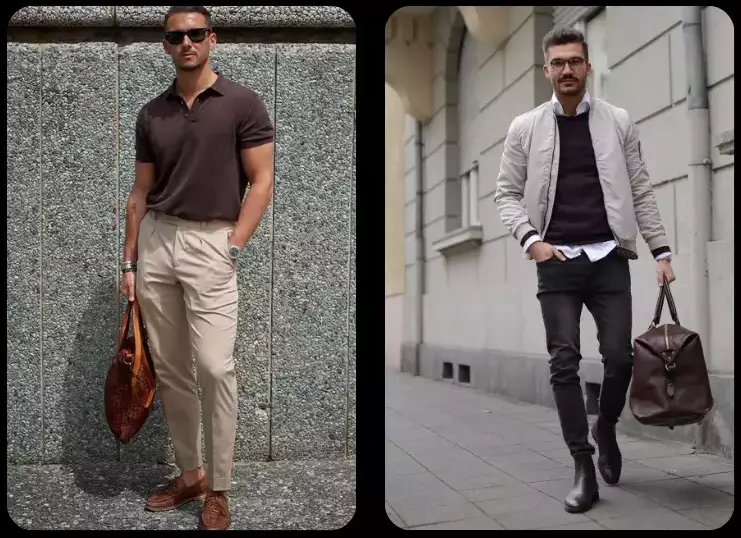 For more of a cool, casual, and trendy look, ditch the button down and wear a well-fitted t-shirt or polo with a pair of comfortable trousers or dark jeans. Add a stylish bomber jacket or cardigan to add a bit of style and formality to your outfit. Opt for comfortable shoes such as loafers, clean sneakers, or leather boots. Experiment with accessories like a leather belt, a stylish watch, or a statement pocket square to add a bit more flair to an otherwise, simple look.
Read More: